Here, you can find a step-by-step image guide on How to buy Basic Attention Token (BAT), on Gemini, a well-known crypto-currency exchange that accepts FIAT.
Use the below steps to make sure you safely go through the process of buying your first coin.
1. Sign-up for an account on Gemini
Go to https://gemini.com/. Click on the top-right corner, Register button.
We recommend using a very secure password that includes Numbers, Symbols, Capital Letters, and Lower-Case Letters. Use a mix of different types of characters to make the password harder to crack.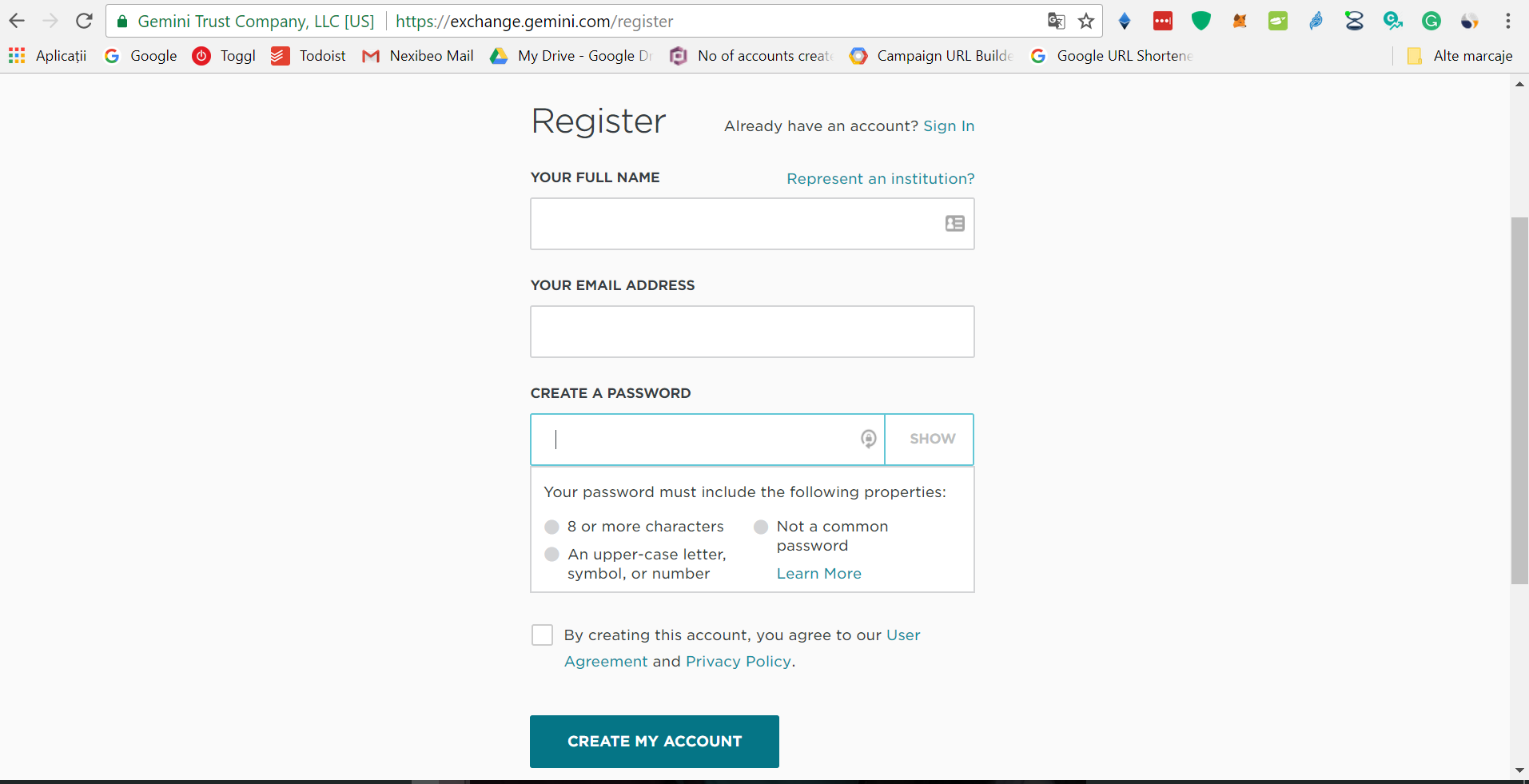 2. Confirm your account
You will then receive an email with an activation key.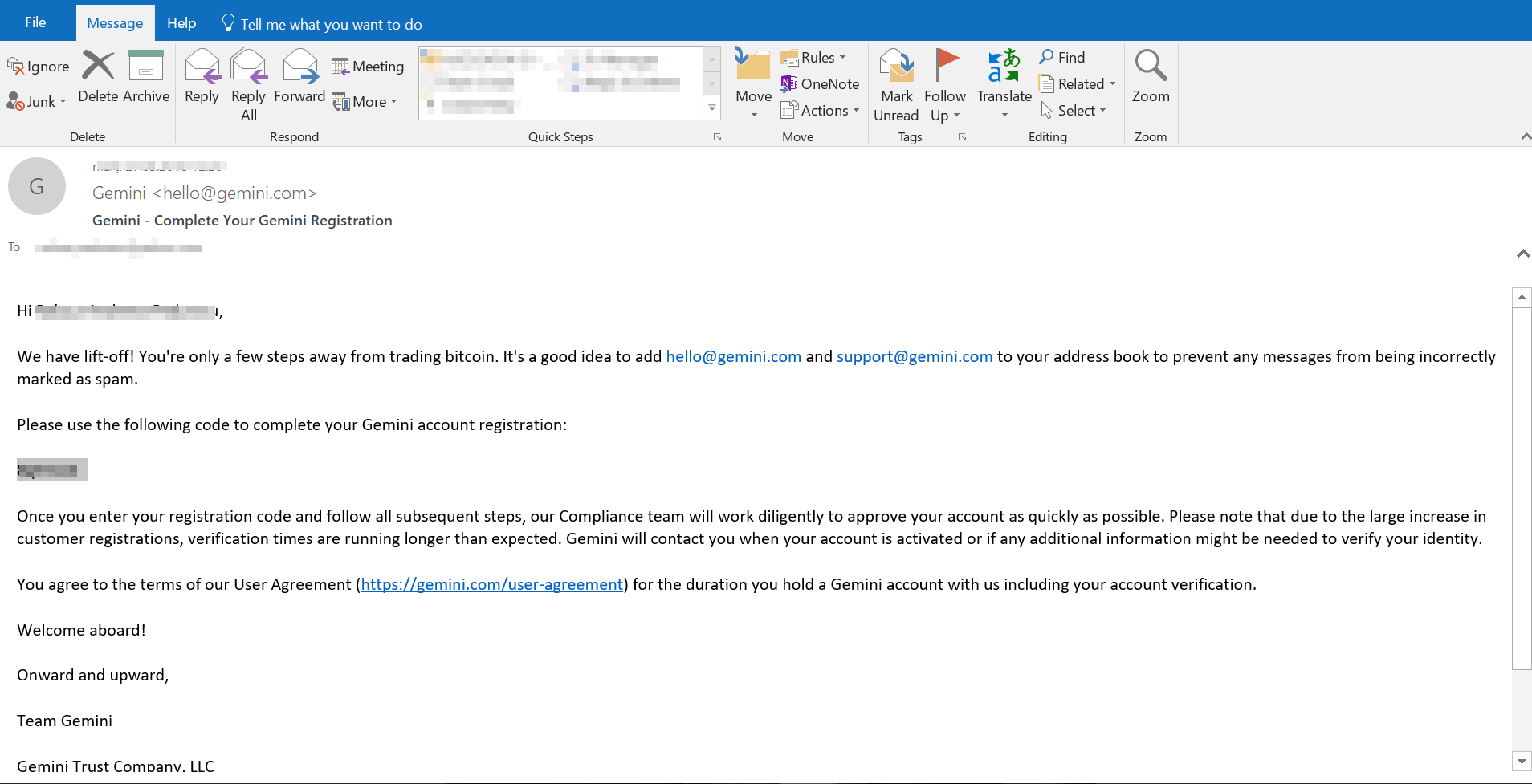 You will need to manually input the activation key in the activate-account window as per image below.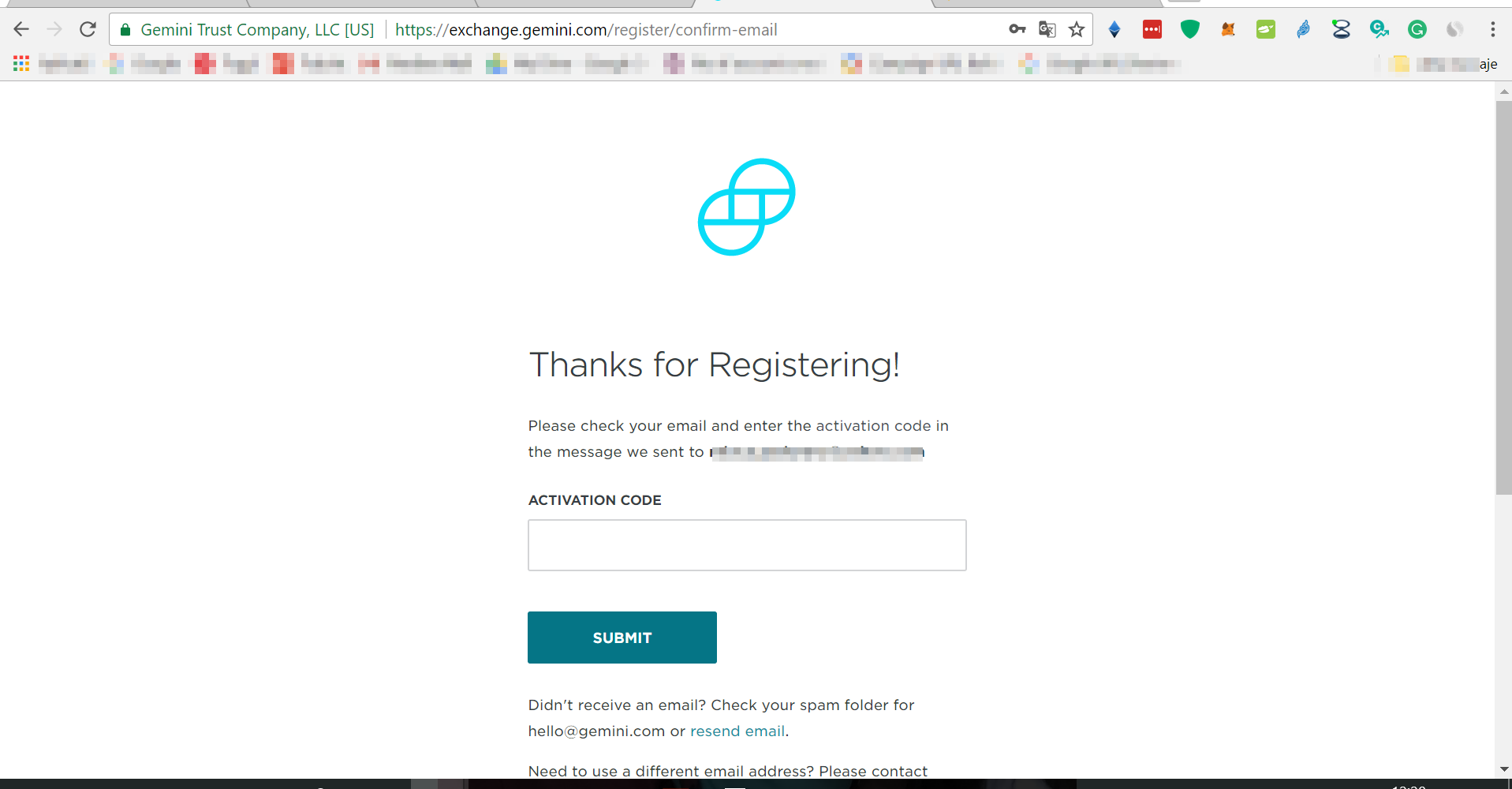 Once you have inserted the activation code, you will then be redirected to the Get-Started page of Gemini.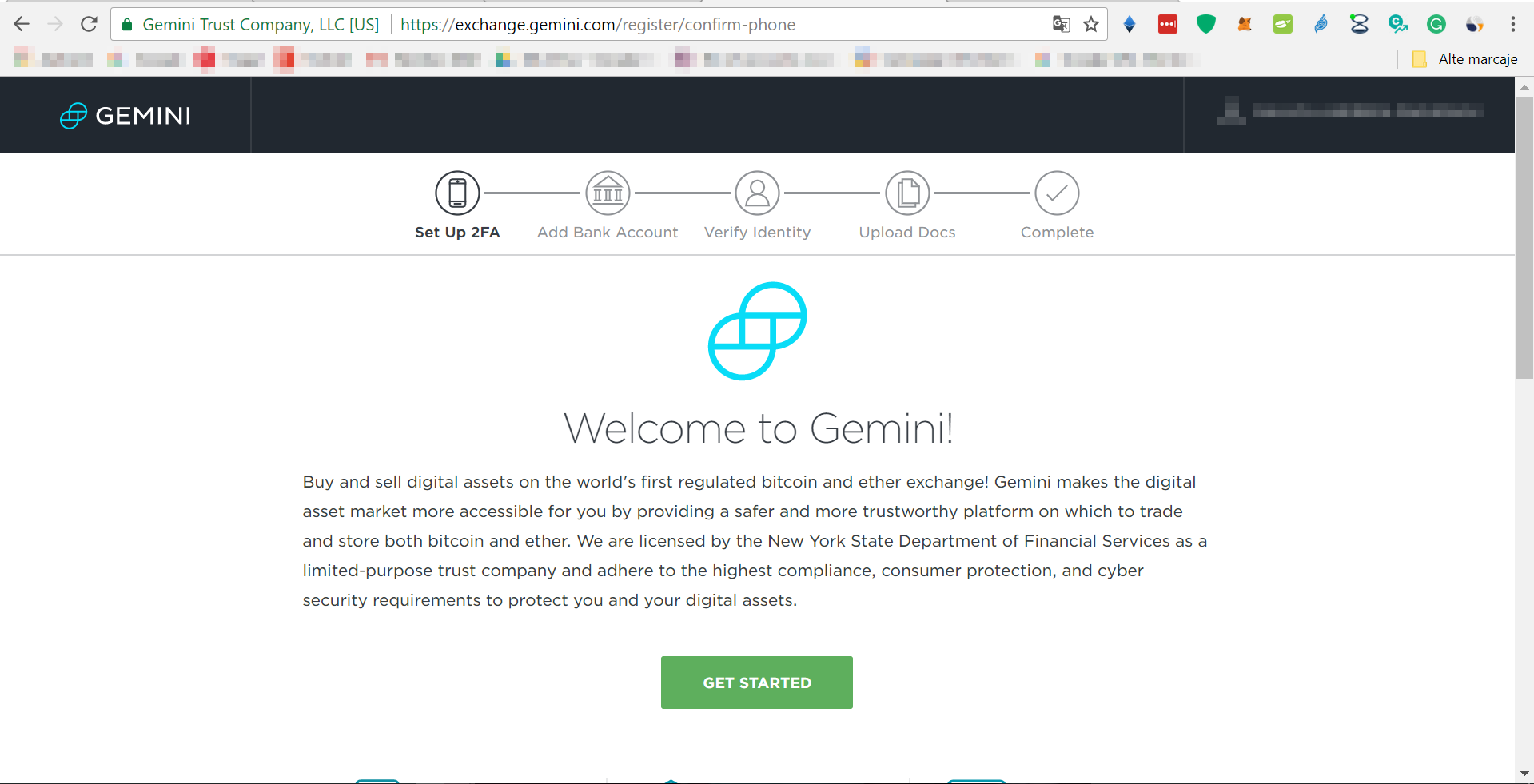 Click the Get Started button.
3. Set-up 2FA
Wondering what 2FA is?
Two-factor authentication (also known as 2FA) is a type (subset) of multi-factor authentication. It is a method of confirming a user's claimed identity by utilizing a combination of two different factors: 1) something they know, 2) something they have, or 3) something they are.
An excellent example of two-factor authentication is the withdrawing of money from an ATM; only the correct combination of a bank card (something that the user possesses) and a PIN (personal identification number, something that the user knows) allows the transaction to be carried out.
In the case of exchanges what the user knows are the login details username and password and what he possesses is the 2nd factor for the authentication which is a code. The code can be either received through SMS on users personal mobile phone or found in an application like Google Authenticator or Authy.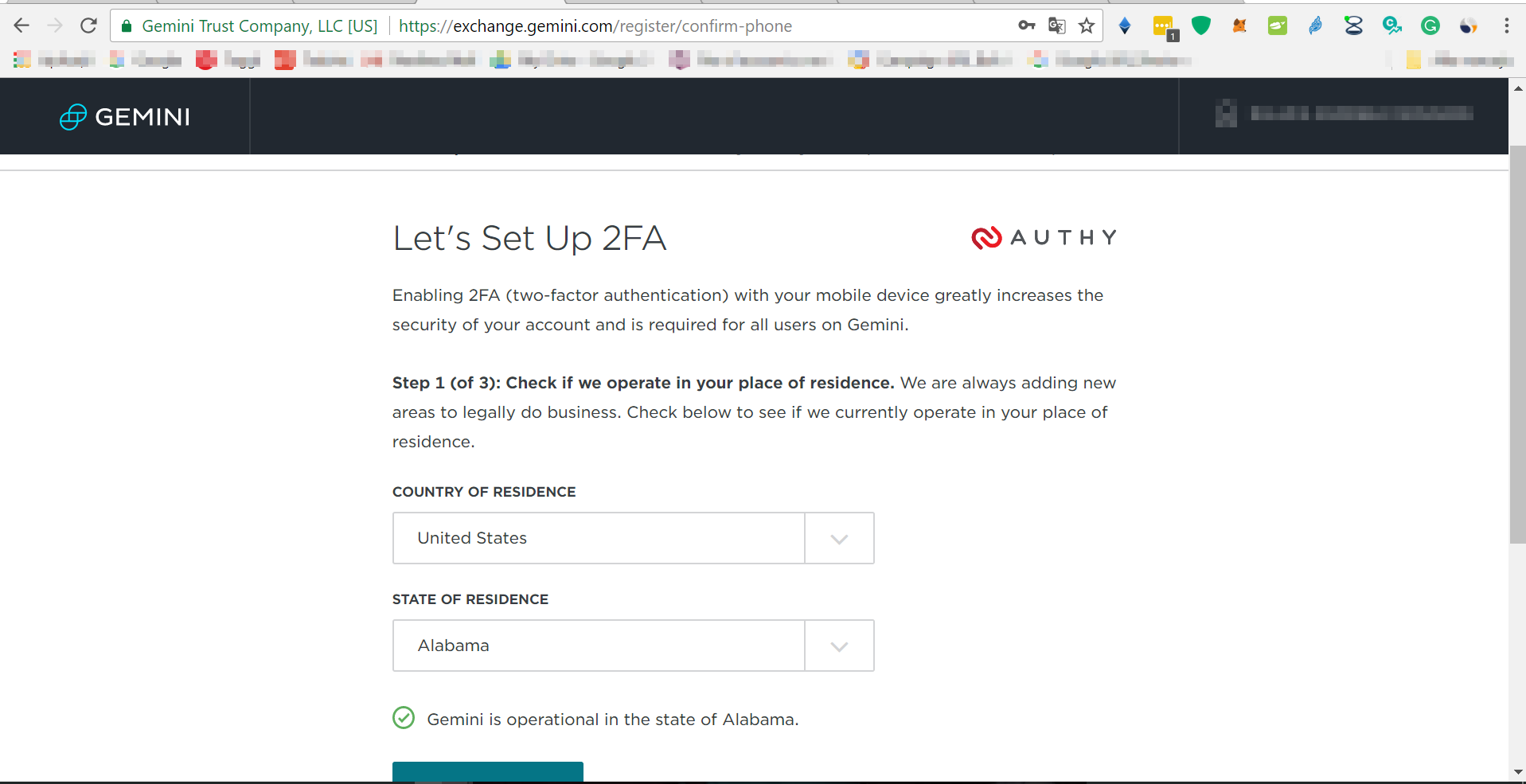 Once you entered your location, enter your phone number as well.
4. Add a bank account
At this point, you need to enter your bank account. It is very important that the bank account that you enter belongs to you and not a 3rd party as this is not going to be accepted.
Gemini accepts funding through bank transfers and wires. In order to get your money across faster and begin transactions, we recommend ACH deposits (only available for US customers). These are instant so you can begin trading immediately.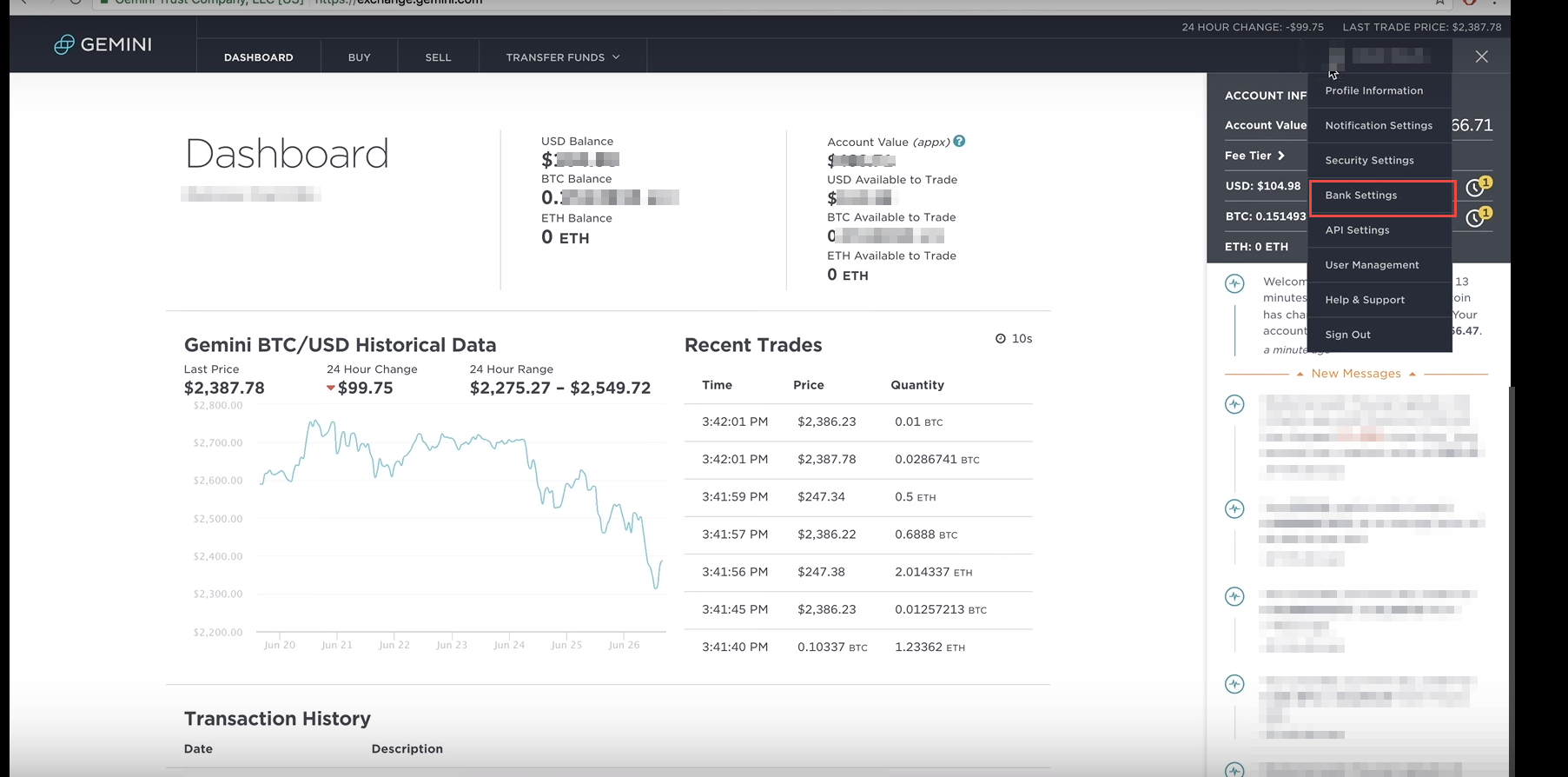 If your bank is a corporate one, verification is faster, you just click on it from the drop-down.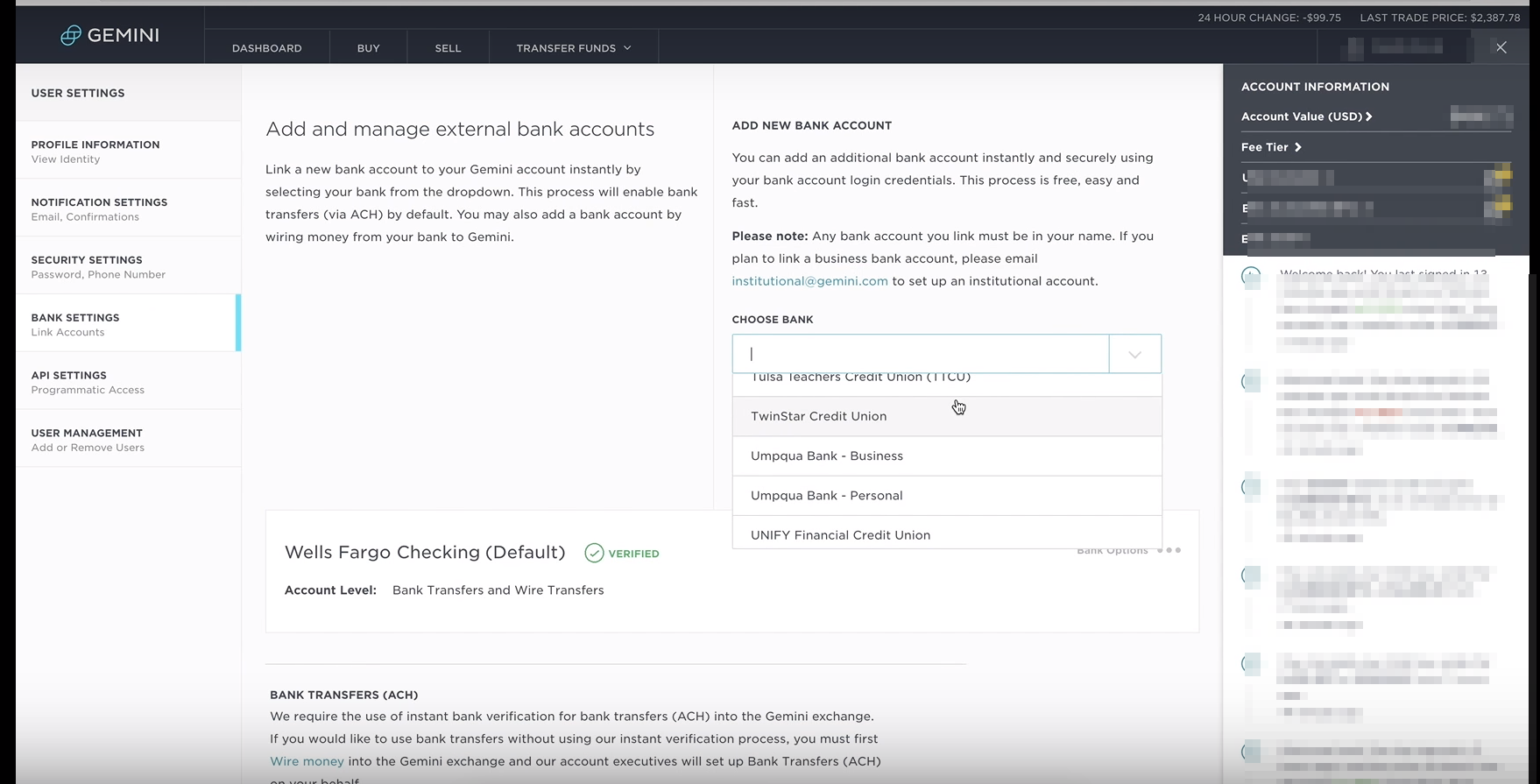 If it is a local, smaller one, you will need to input manually the data in the required fields. Select Do not see your bank on this list? from the drop-down, click Continue, then Add bank via wire and fill in manually the information.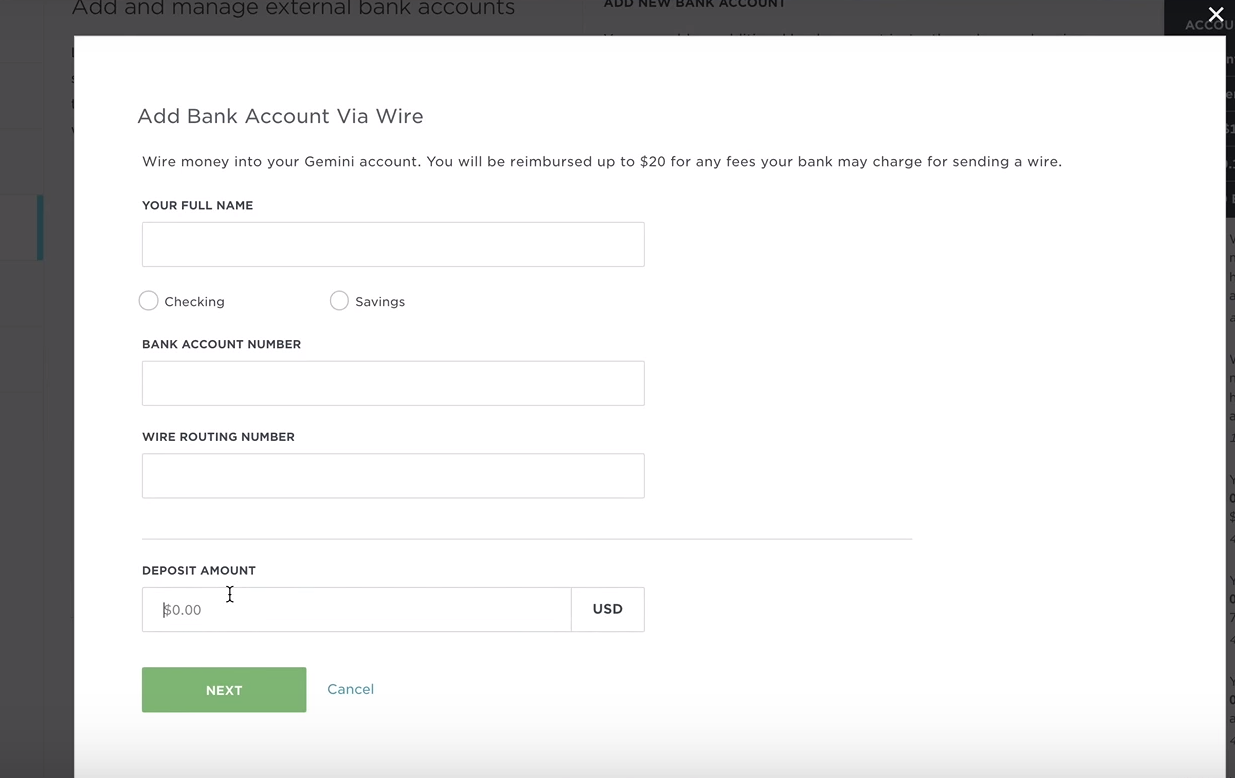 You will then receive wire instructions for your transfer.
5. Get verified
Next step though, is to go through a verification process. You will be required to submit proof of identity ( drivers' license or passport) and of residence ( a utility bill) and upload these documents as per indications.
Please note that verification time depends on the number of applications being processed and can take anywhere from a few to several days.
6. Fund your account
You can now fund your account. Please note that Gemini accepts only USD. You can opt for one of the following:
ACH deposit ( pro – it's really fast so you can start trading instantly; con – limited to the US)
Wire transfer ( pro – wire transfers are irreversible so it is safe; con- it is limited to 500 USD/day)
7. Start trading
How do I actually buy my first cryptocurrency?
Below you can find the step by step process to buy your first coin. It's rather straightforward but you need to be careful with a few aspects.
Access https://exchange.gemini.com 
Select the correct symbol for the coin you need to buy

Choose the right pair ( for eg. BTC/ USD,  ETH/USD, etc.)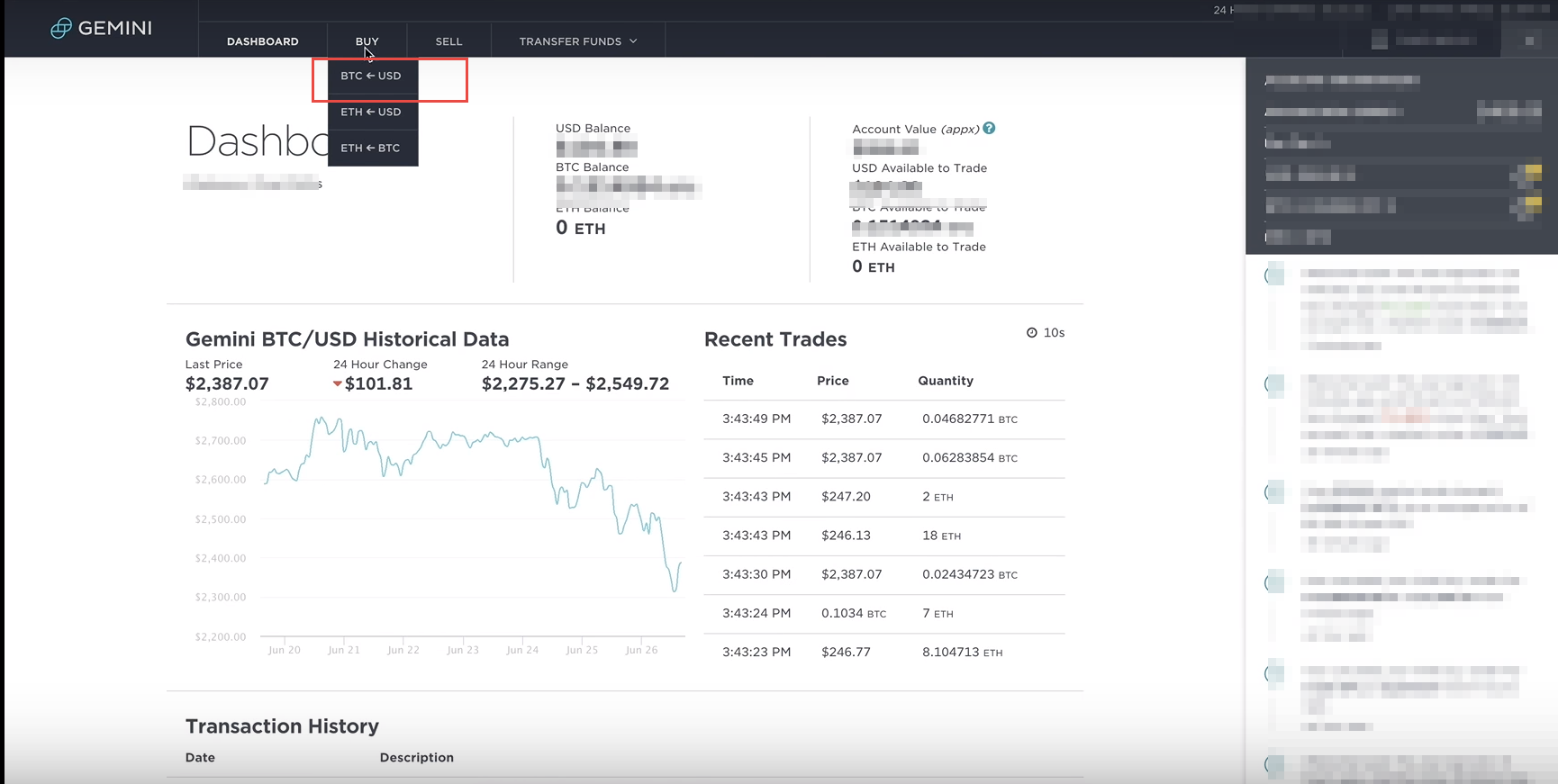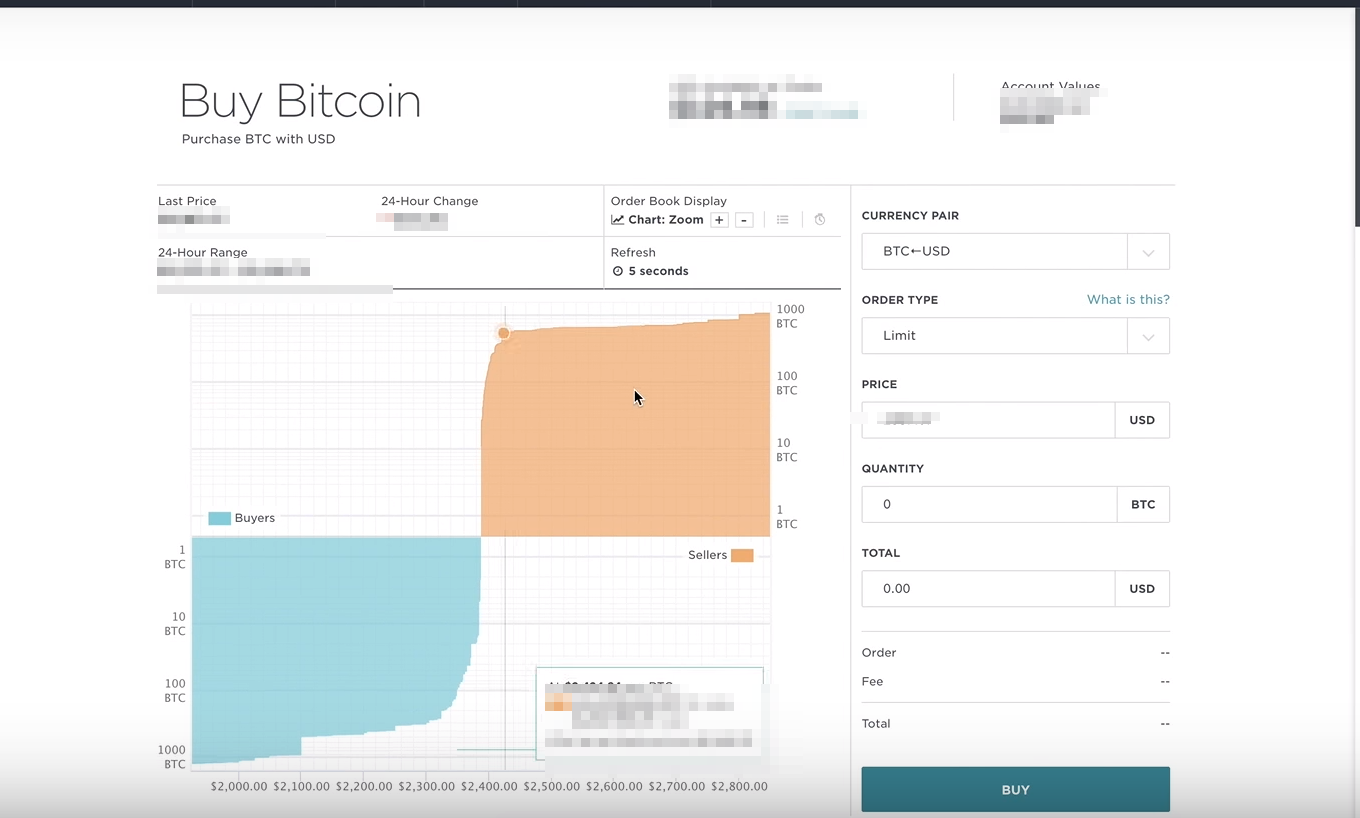 What is the difference between Market/Limit?
Market stands for the market price. Basically, the asking price of that moment on the exchange and Limit is a fixed price which you are willing to offer for that coin.
Let me put it in simpler words it's like you want to buy a used car and you go to a website and see different offers for the same model. You can either choose to buy it from whoever wants to sell it first, irrespective of the price they ask. Or, you have in mind a budget you are willing to spend and base the purchase on this, choosing an offer or negotiating with an owner so that you purchase at the maximum price you are willing to pay.  
There might be cases in which you decide to purchase at the market price to do it faster or for other reasons. But most of the cases we suggest you go for the limit option and maybe wait a bit so that your order gets filled.
For the moment even if the option is there we suggest you do not use Margin trading, this involving a high risk.
So :
Input the amount you want to buy.
Input the price you are willing to pay.
Click BUY.
You need to wait until this is filled and voila! You have your first crypto! You can then, check your balance in the account section.
CONGRATULATIONS! YOU BOUGHT YOUR FIRST Basic Attention Token (BAT) ON Gemini.com.