Step by step overview on how to buy Bitcoin on LakeBTC
LakeBTC is a Chinese exchange where traders and financial professionals can buy, sell, or exchange cryptocurrencies.
These are the steps on how to start trading Bitcoin on LakeBTC:
1. Sign-up on LakeBTC
To register, open the LakeBTC site.
Click "Register" which is located at the upper-right hand corner of your screen.

Enter your email address, then pick a password and confirm it. Click on the Register box to proceed.

You will receive an email confirmation. Go to your Inbox and look for the message from LakeBTC.

Click on the link provided which will route you back to the Log In screen.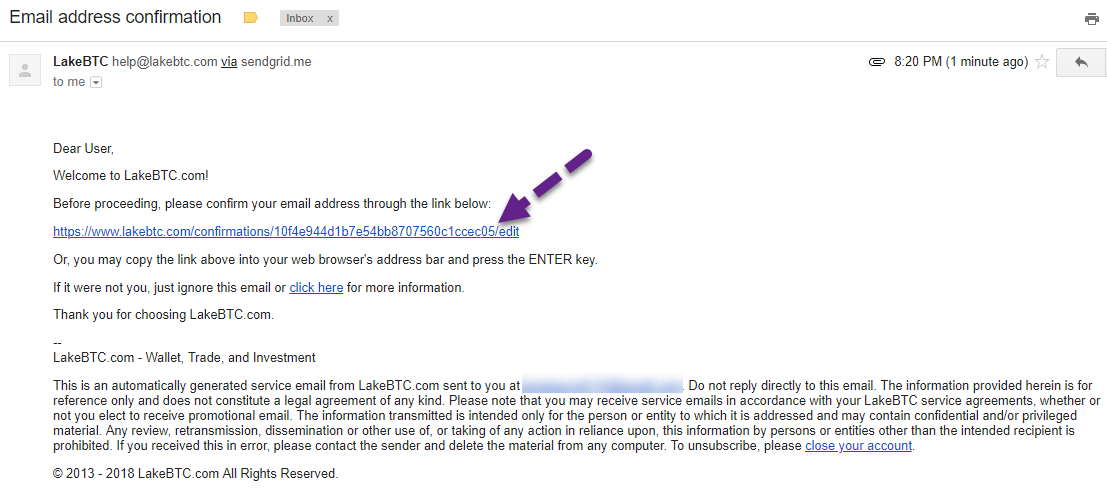 Type in your email and the password you've set up. Click on the Log In box.

Good job! You have successfully created an account on LakeBTC. 
2. Verify your LakeBTC account
After logging in to LakeBTC, click on the "Me" gear to manage "My Account." These tabs need to be filled out before you can start trading.

To verify your LakeBTC account, click on "Verification" and fill out the form.
Withdrawals can only be processed to bank accounts under your name, so make sure you fill in the exact name on your ID card and your bank account.
Also, PO Box is not considered as a valid home address. Proof of residencies such as electricity, gas, cable, phone bill or bank statement must be issued within the last three months.
Note:
Images must be in JPEG and under 1MB
Pictures of photocopies, self-printouts, or screenshots are not acceptable, except for pictures of original physical documents
Documents must not be covered or cropped
Personal documents must not be sent through email
If you are opening a corporate or business account, Government issued business registration document is required. The Government photo ID of the owner must reflect his/her name, date of birth, address, and identification number. Examples of accepted proof of business address are utility bills, office lease, bank statements. Merge the JPEG files or use multi-page PDF files if you are submitting three documents.
Click on the Submit box to proceed.
A notification saying the information you've submitted is being processed will reflect under "Verification."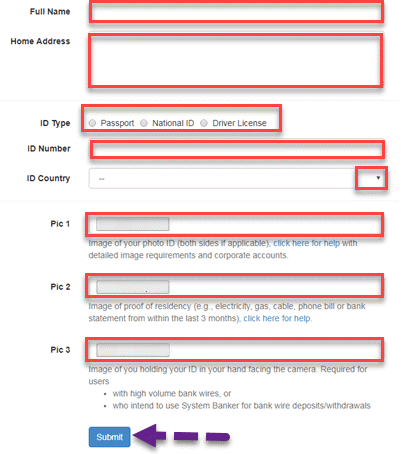 LakeBTC currently supports three different accounts namely Trading, BTC Deposit/Withdraw, and Deposit/Withdraw via Bank Wire. You can trade without verifying your ID as long as your operations do not involve real FIAT currencies.
Excellent! You have successfully verified your LakeBTC account. 
3. Secure your LakeBTC account by setting a 2-factor authentication (2FA)
What is 2FA?
Two-factor authentication, also known as 2FA, is an extra layer of security or added protection which we refer to as multi-factor authentication. Not only the username and password are required but also a piece of information that only a user possesses. This process is to confirm a user's claimed identity.
The 2FA process helps lessen the number of identity theft cases and as well as phishing via email. It would be harder for potential intruders to gain access and steal someone's identity and personal data without that piece of information that only the account owner knows.
In the case of exchanges what the user has are his/her login details such as the username and password. The form of 2FA that a user possesses for this instance is a token or code. The code can be received either through SMS on a user's mobile phone or via applications like Google Authenticator or Authy.
Check this if you want to learn more about Google Authenticator.
To get started, install the 'Google Authenticator' app on your phone.
After installing, go to the Security page on LakeBTC and click "Google Authentication" to scan the QR code for you to generate the 6-digit code.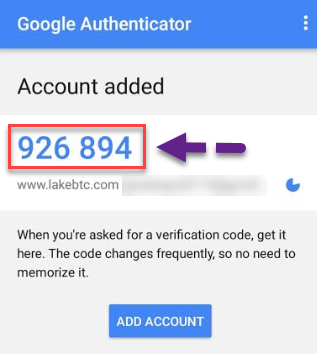 Enter the code as shown in the image below, then click on the Submit button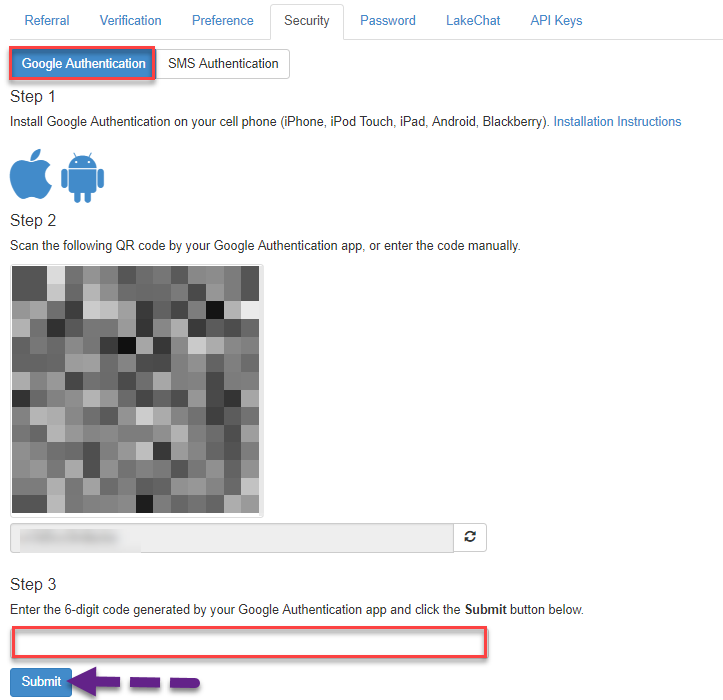 You will see a notification that Google Authentication has been enabled for your account.
Fantastic! Two-Factor Authentication is now active on your LakeBTC account.
4. Funding your LakeBTC account
After securing your LakeBTC account, you can now proceed to the next step which is funding.
Start by logging in using the information you've set up which will redirect you to the 'My Wallet" page.
To start funding, you will need to create sub-accounts. These are the first six boxes that you can see when you go to "My Wallet."

You will then see the sub-accounts added by clicking on OK.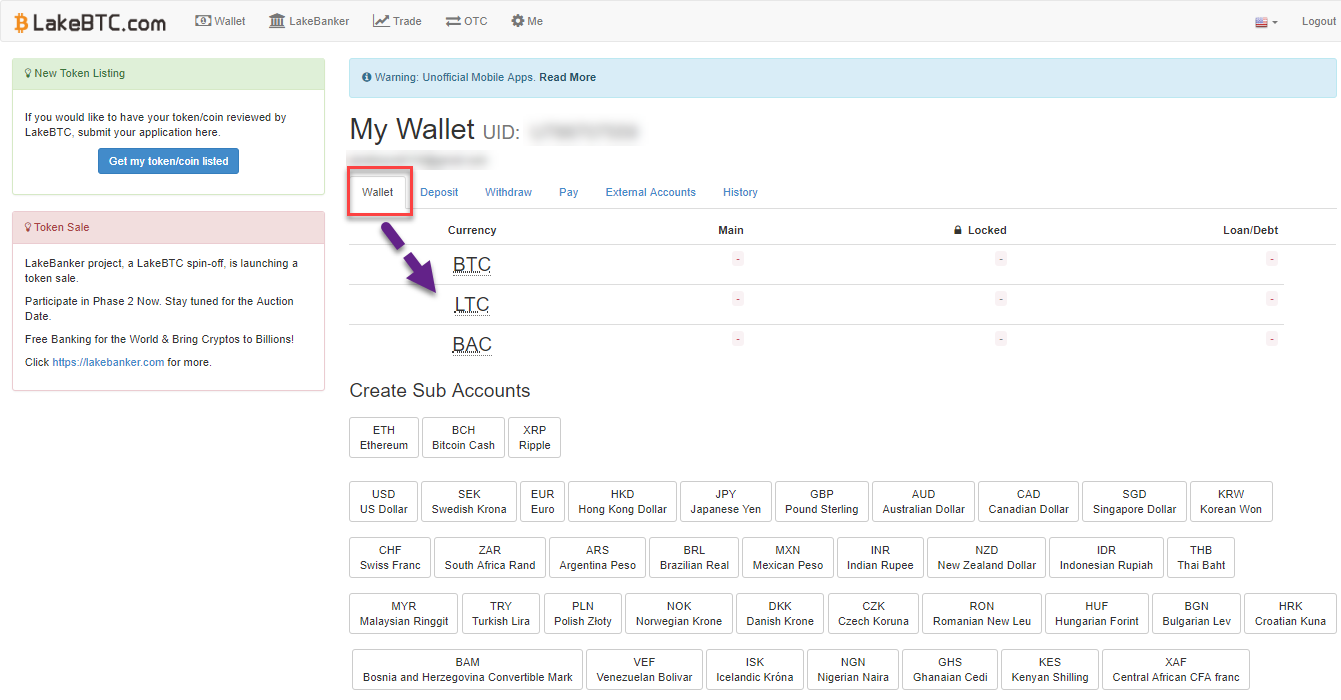 Next, choose which sub-account you wanted to make transactions with and click on "more." You will go back to the "Wallet" screen.
Select your currency.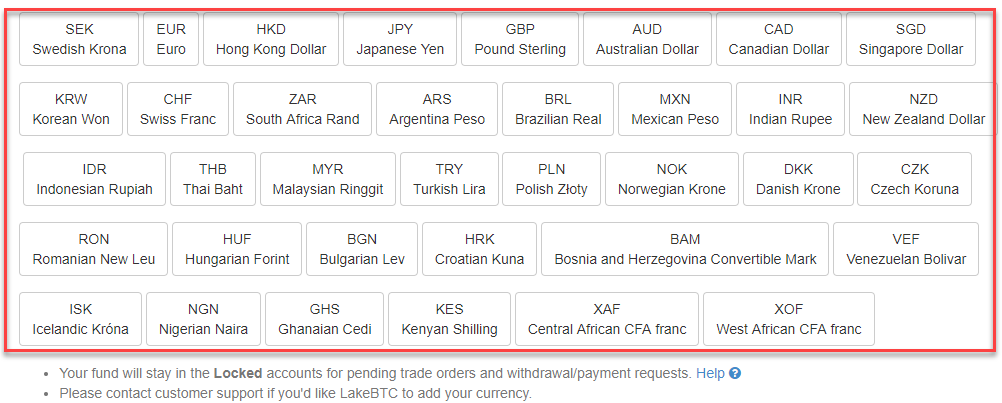 In this example, I selected USD as my currency. You will see that USD has been reflected under "Wallet." To process a deposit request, click on "Deposit."

Select your desired payment method and type in the amount, then click on the Submit button. A new window will pop-up asking for your confirmation. Click on the Create Deposit Request Now button.
When a LakeBanker accepts your deposit request, you will receive an email and in-browser notifications. Follow the instructions and send the payment.
Review LakeBTC's fee structure here.
You can also add External accounts or view Deposit History at any time.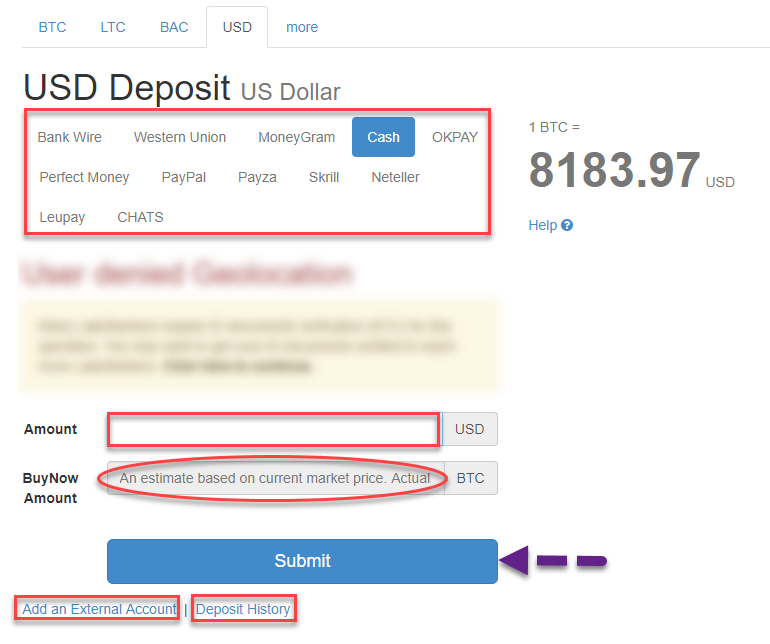 The same process applies to the rest of the sub-accounts.
Also, with LakeBTC, you can make yourself a banker where you can offer money to trade and get a profit. To do so, click on LakeBanker, then click on the "Activate LinkBanker Now" box.
Make sure that you've accessed and read the LakeBanker Introductory and FAQ links.
Awesome! You have deposited funds on your LakeBTC account.
5. Start trading Bitcoin on LakeBTC
With LakeBTC, you have the option to buy Bitcoins without registering an account. Simply use your cryptocurrencies, and you're good to go. This is made possible through "Unverified" account.
When you access the LakeBTC website, scroll down, and you will see the form where you can fill out with your amount of purchase and your email address. Click on the Submit button to continue.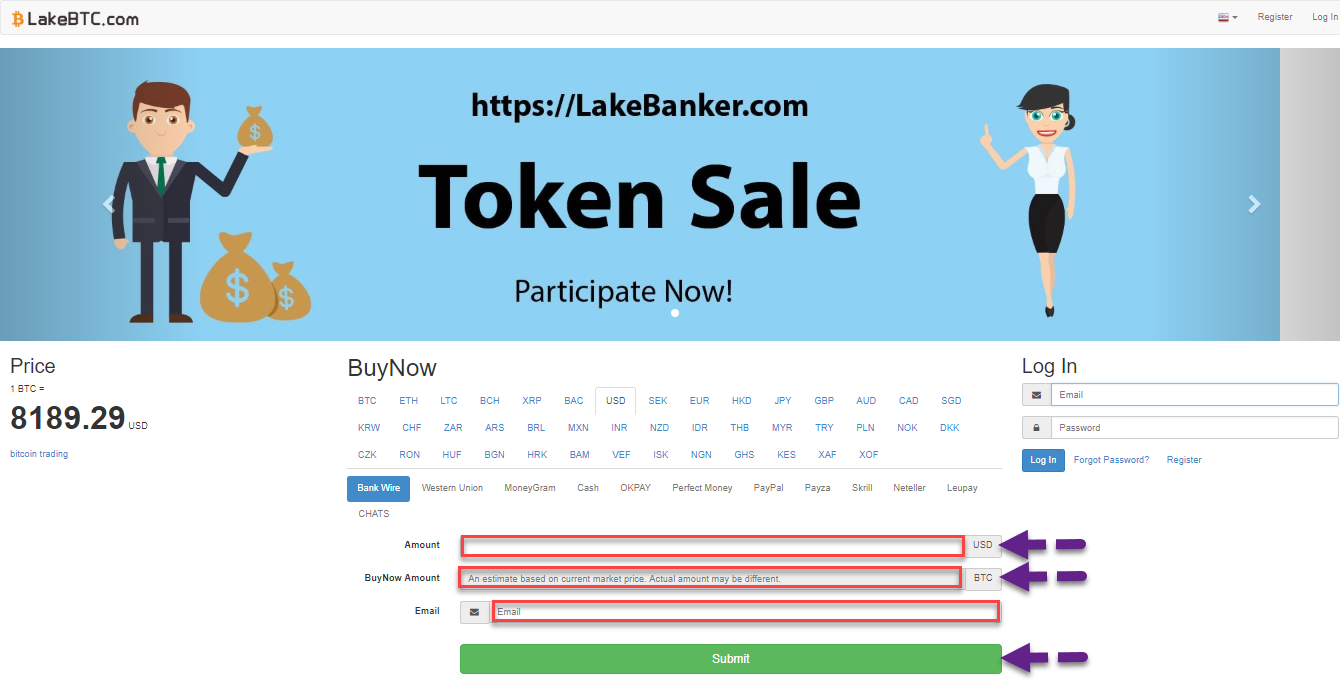 Let's go ahead and buy your first Bitcoin on your secured and funded LakeBTC account.
Click "Trade" which will redirect you to the "Buy" tab, then select the market of your choice. Type in your desired price and amount to start placing a bid order.

The BTC balance will reflect in your account when your order matched with other orders. You can either withdraw or use it to make payments.
You may also use the OTC or over-the-counter service to purchase Bitcoins on LakeBTC. Simply click "OTC" which is next to 'Trade," then click on the New OTC Order button to submit the order.
To review your orders as well as your history for both Order and Trade, go to "Open Orders." You also have the option to cancel your orders if you wish to.

Congratulations! You just made an order for your first Bitcoin on LakeBTC.