Step by step overview on how to buy Cocos-BCX (COCOS) on Binance

Binance is a cryptocurrency exchange focusing on crypto-to-crypto trading. This platform started to gain an excellent reputation in the blockchain community due to its multiple-coin offerings.

Follow these steps for you to start trading on Binance.
1. Sign-up on Binance
The first thing you need to do in order to buy Cocos-BCX (COCOS) on Binance is to create an account. There's no KYC required for withdrawals below 2 BTC per day. To create an account on Binance, click on the button below and follow the instructions.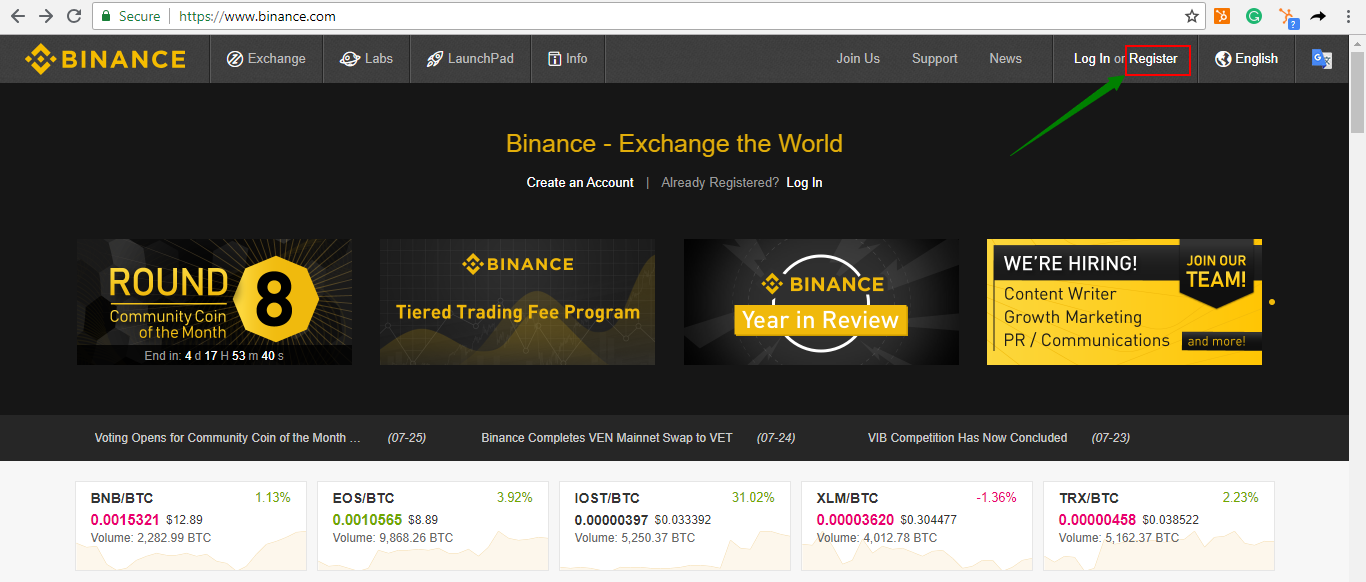 Sign-up with your email address and create a password. Enter the Referral ID if applicable. Otherwise, confirm the agreement box, then click on the "Register" button to continue.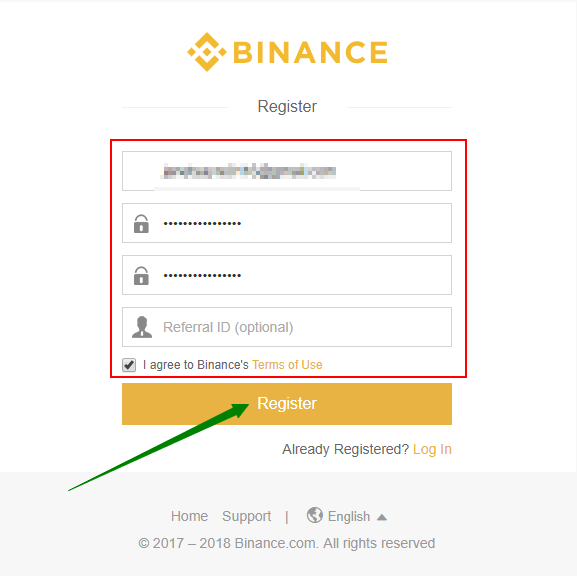 Next, complete the puzzle by dragging the slider to the right.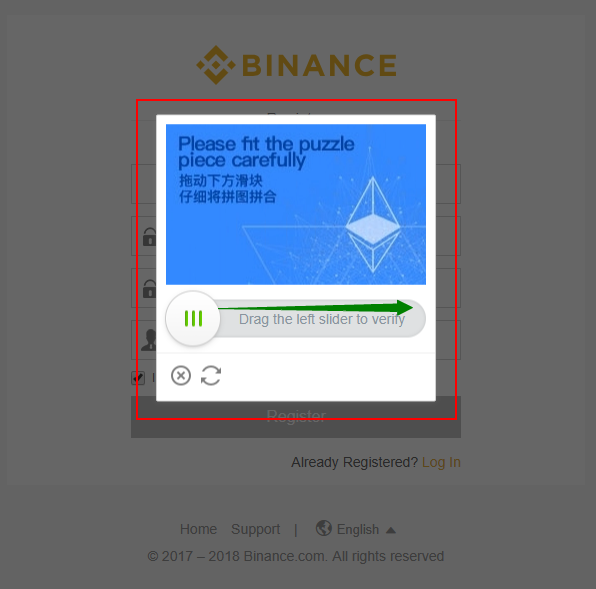 An email confirmation will then be sent to the email address that you've signed up for Binance.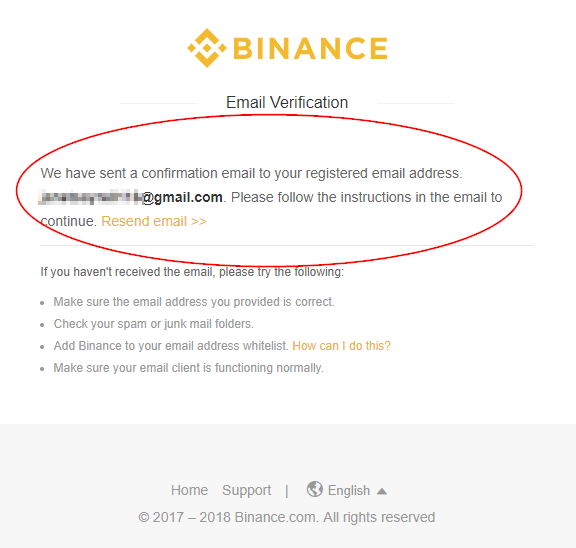 Check your Inbox and look for the message confirming your registration. You can click on either the "Verify Email" box or the link provided.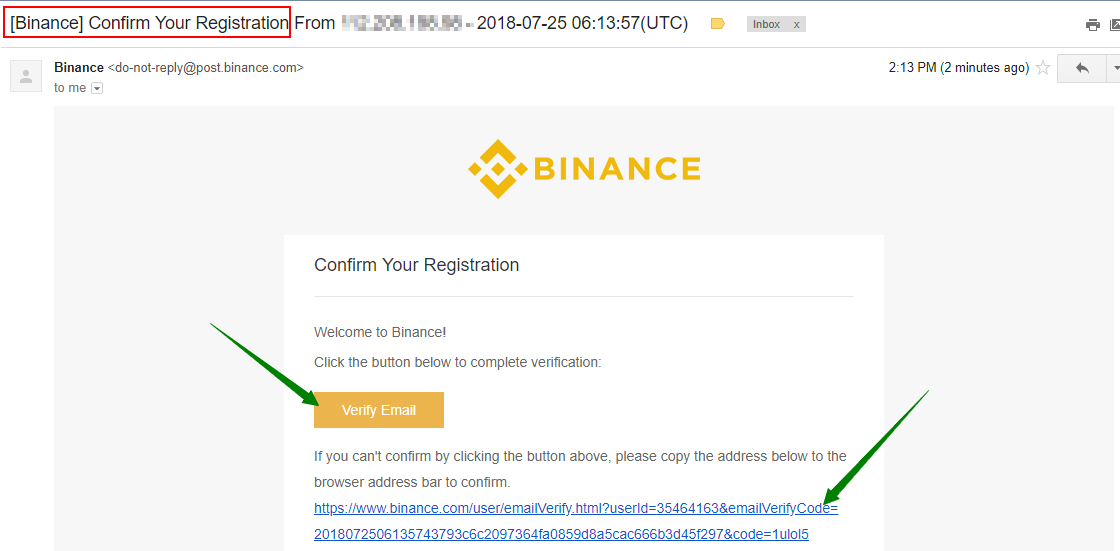 You will then be redirected to the registration page showing that your account has been completely activated.
Good job! You have created an account with Binance.
2. Secure your Binance account by setting 2FA
What is 2FA?
Two-factor authentication, also known as 2FA, is an extra layer of security or added protection which we refer to as multi-factor authentication. Not only the username and password are required but also a piece of information that only a user possesses. This process is to confirm a user's claimed identity.
The 2FA process helps lessen the number of identity theft cases as well as phishing via email. It would be harder for potential intruders to gain access and steal someone's identity and personal data without that piece of information that only the account owner knows.
In the case of exchanges what the user has are his/her login details such as the username and password. The form of 2FA that a user possesses for this instance is a token or code. The code can be received either through SMS on a user's mobile phone or via applications like Google Authenticator or Authy.
Click this if you want to know more about Authy. You can also download the app through the link provided.
In this step, we will activate 2FA on your Binance account.
The moment you logged in after signing up, you will be asked to activate 2FA. To do this, click on the "Enable" button.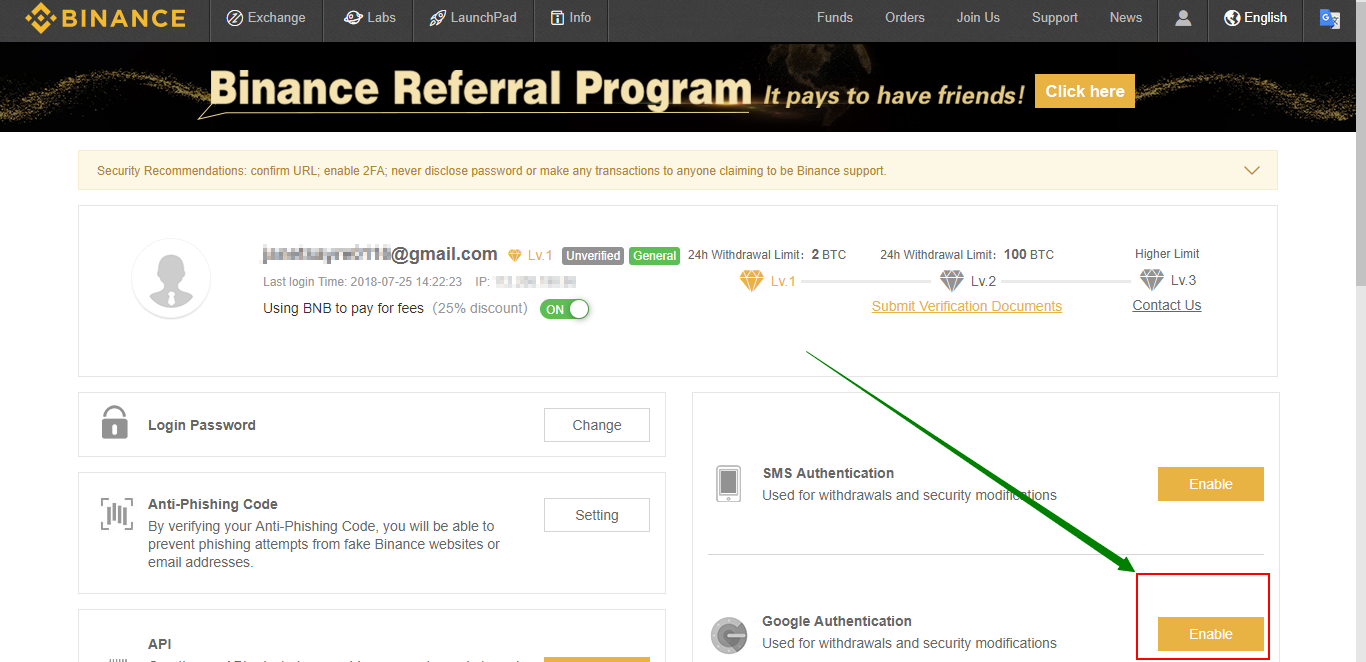 Scan the QR code using Google Authenticator to get the numbers. Click on "Next Step."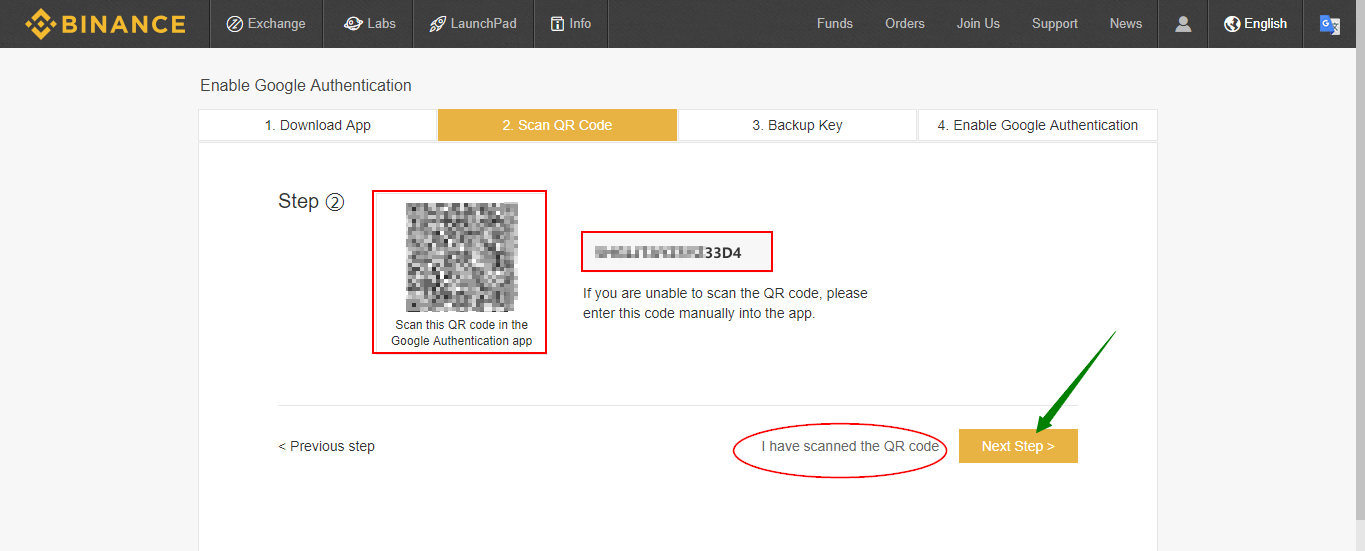 Save the key as instructed for you to recover Google Authentication in case of phone loss. Click on "Next Step."

Lastly, enter your Binance password as well as the Google Authentication code. Click on "Enable Google Authentication."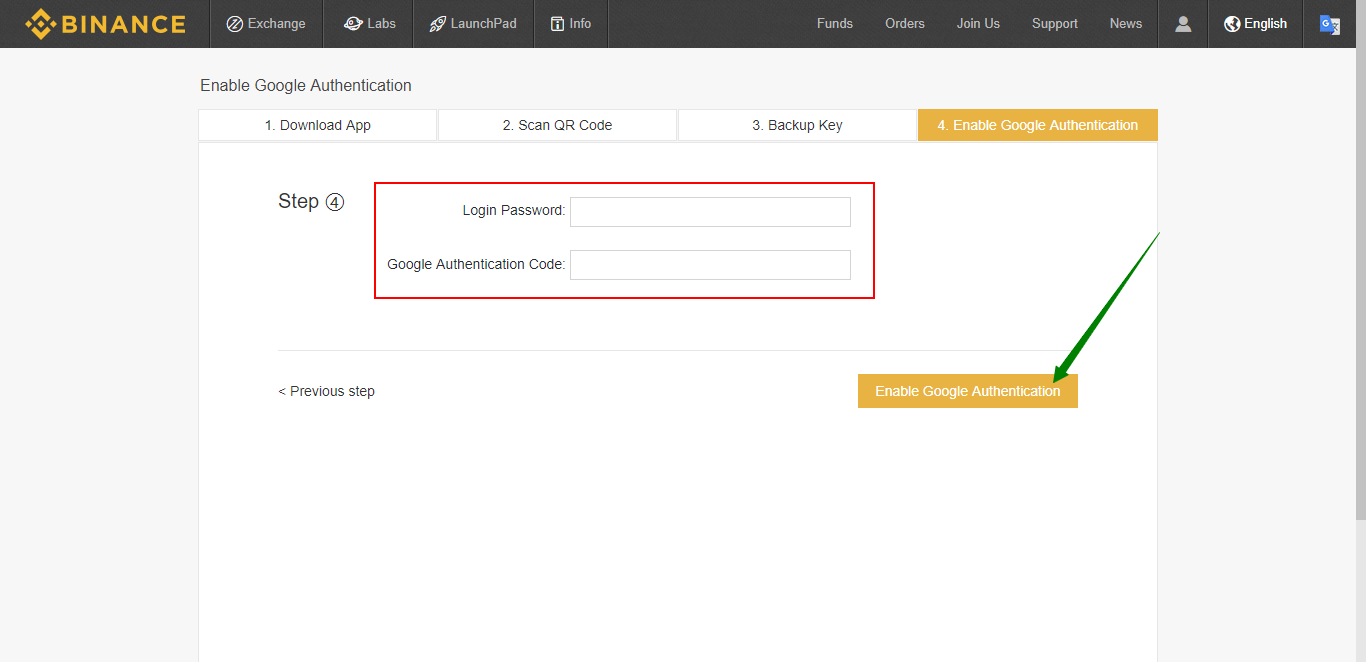 Perfect! You have secured your account with Binance through 2FA.
3. Verify your Binance account
After securing 2FA on your Binance account, the next step is to get verified. This means, submitting necessary documents to validate your identity.
Before doing so, confirm the Security Risk Notice and click on "continue."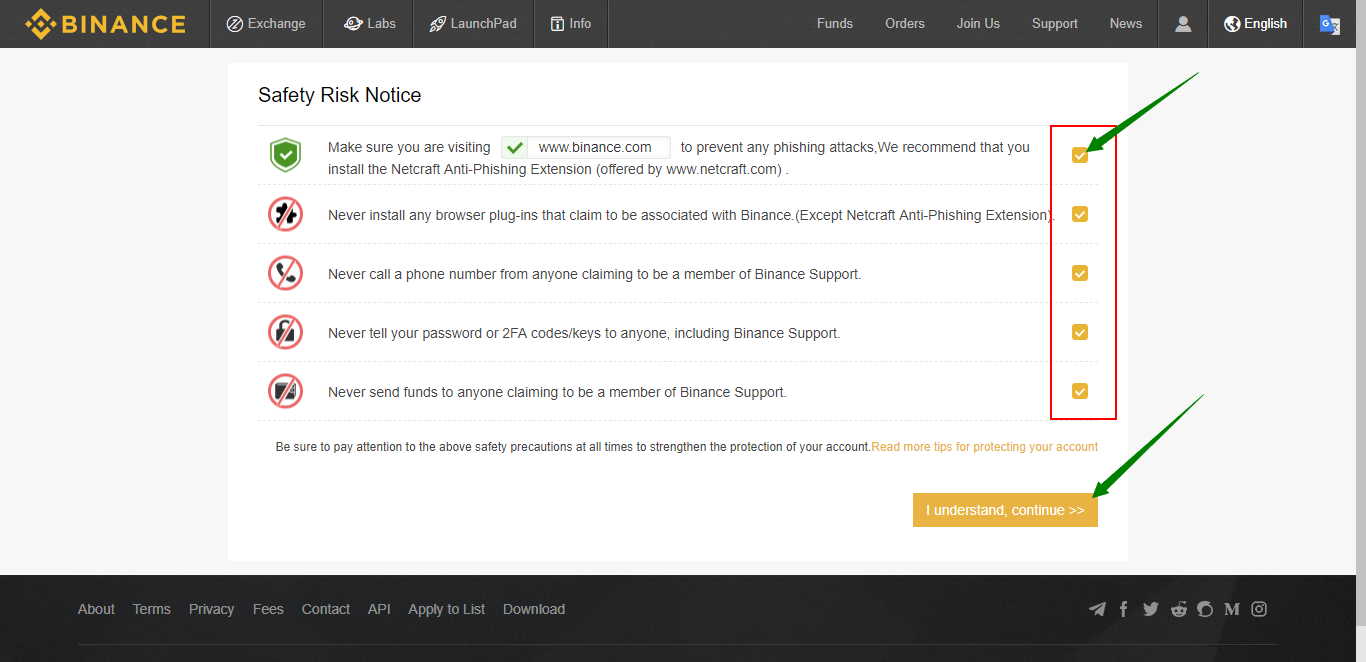 Proceed to level two by clicking on its link instructing you to submit needed documents.

You are given two options to select, depending on your type of account usage for Binance. In this example, we will select "Personal."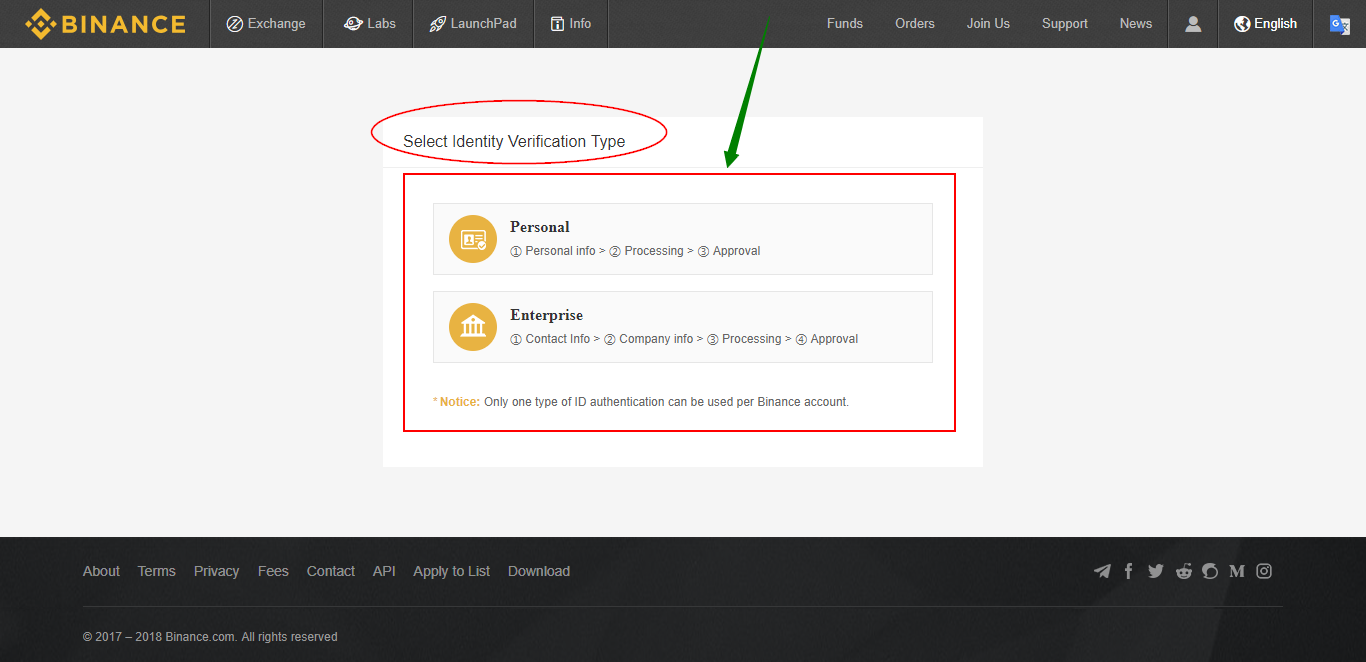 Fill out the form accurately and click on "Begin Verification" whenever you're ready.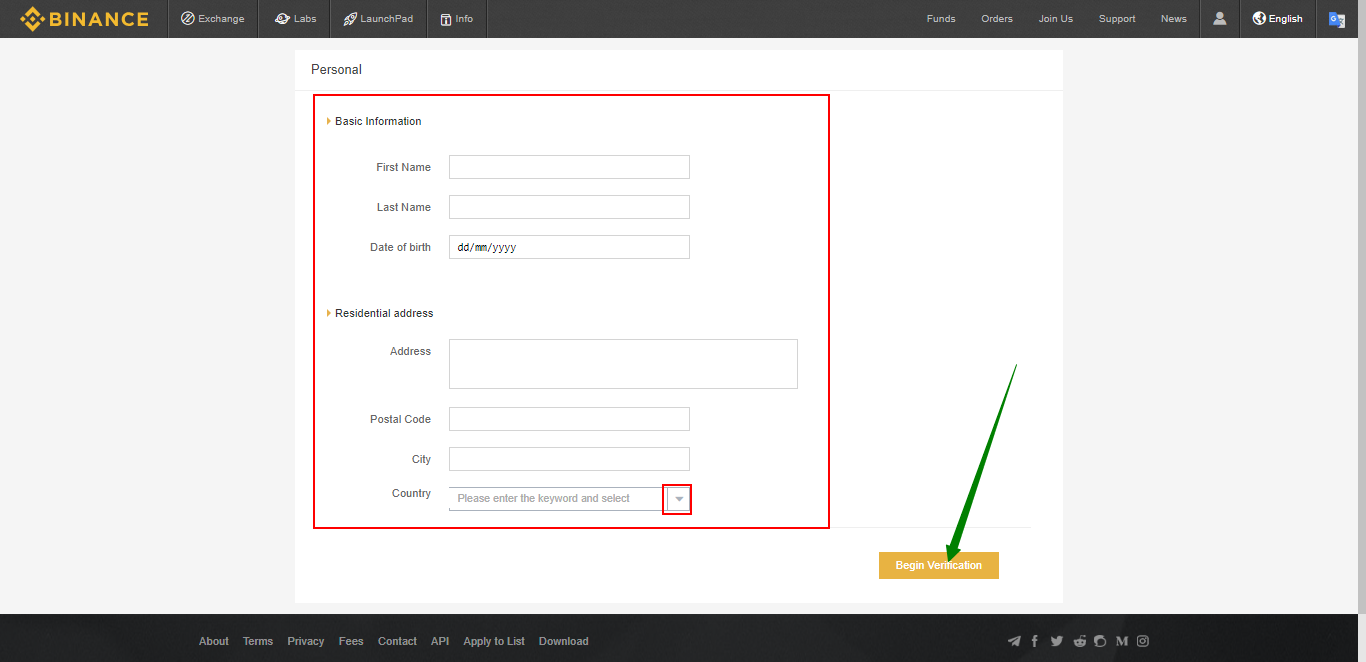 The first stage is ID verification. Click on the box to continue.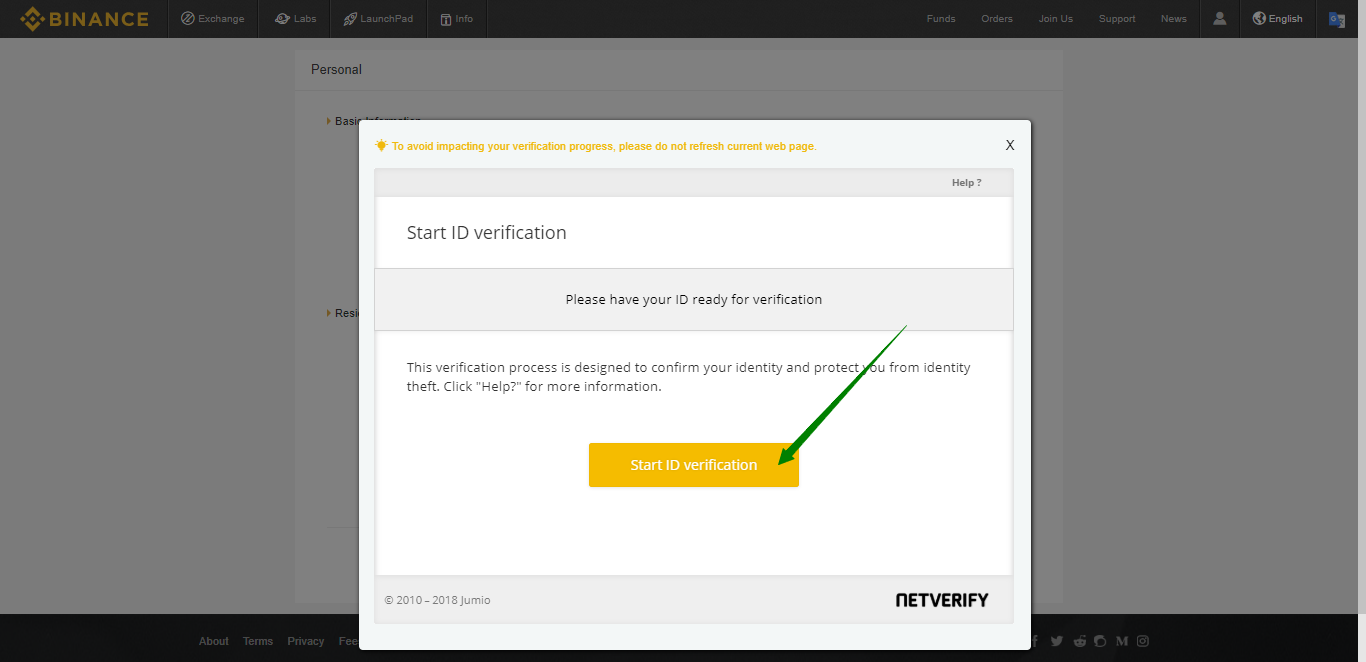 You are given three types of IDs to select from, namely, passport, identity card, and driver's license. Click your selection and upload the photos requested.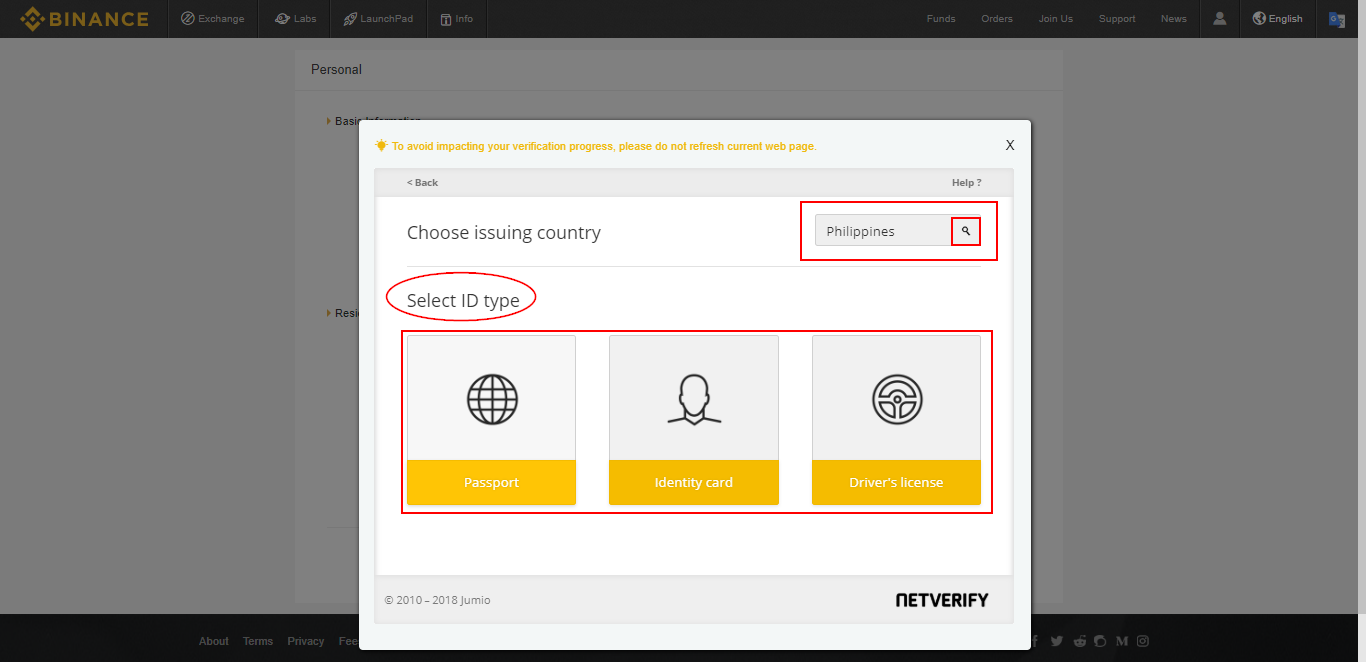 After uploading the photos, you will get a confirmation message saying it is pending for approval.

Perfect! You have verified your Binance account. 
4. Fund your Binance account
Now that you have added security measures on your Binance account, you are ready to deposit funds.
Keep in mind that Binance does not support any fiat currency (USD, JPY, etc.) transactions. 
Click on "Funds" at the top-right area of the website.

Select your Cocos-BCX (COCOS). You can directly type it in the box. We are using BTC in this example.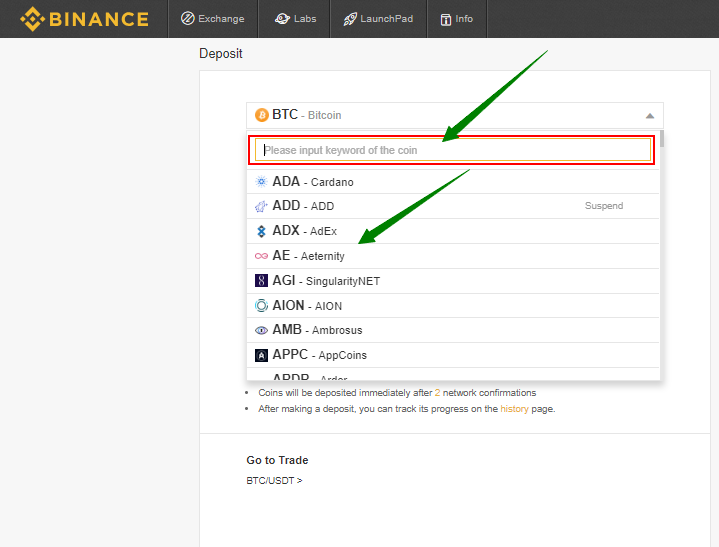 You will be given the wallet address which you can copy to continue depositing. Make sure you are copying the correct one as transactions can no longer be reverted. If your funds are transferred to the incorrect address, you could lose your money.
To check pending and all transactions, go to "History."
Way to go! You have funded Cocos-BCX (COCOS) on your Binance account.
5. Start to trade Cocos-BCX (COCOS) on Binance
Since you have funded your Binance account, it's time to buy your first Cocos-BCX (COCOS).
To go to the trading page, click on the Binance logo on the upper-left side of the website.
In this example, we will purchase BNB with BTC.  Choose BTC Market and input BNB in the search box.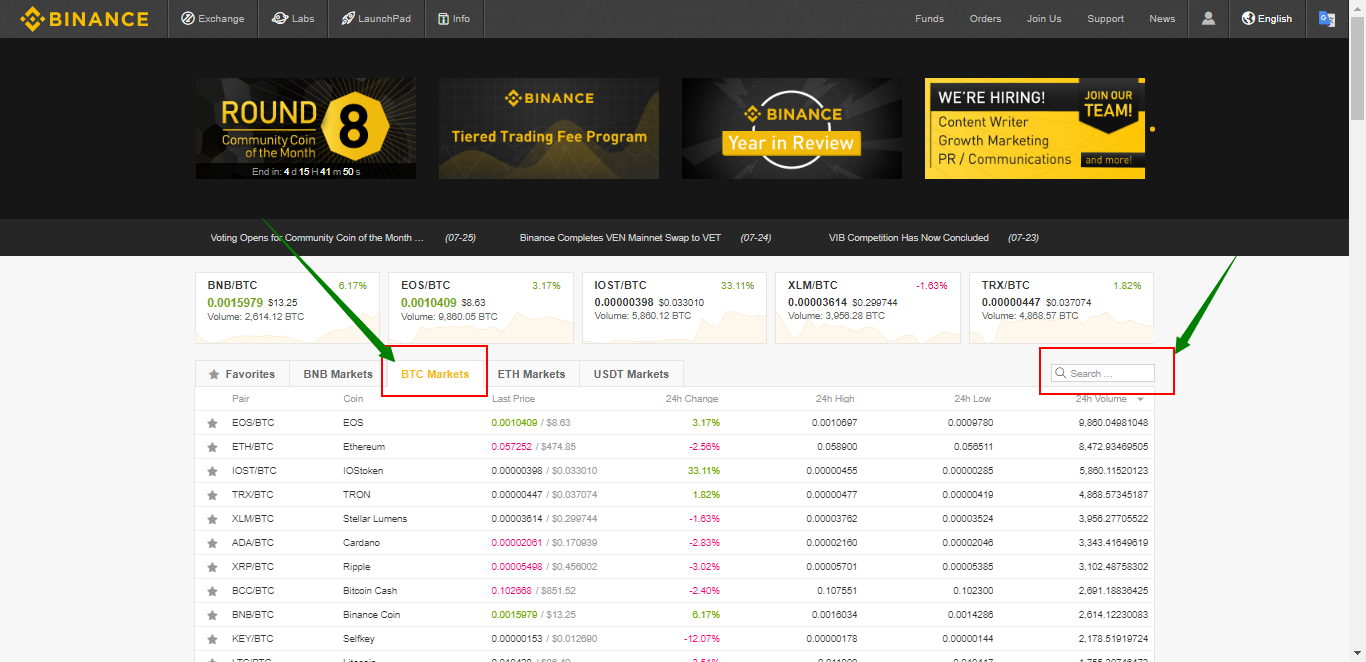 Click on the search result, which in this case, is BNB/BTC pair.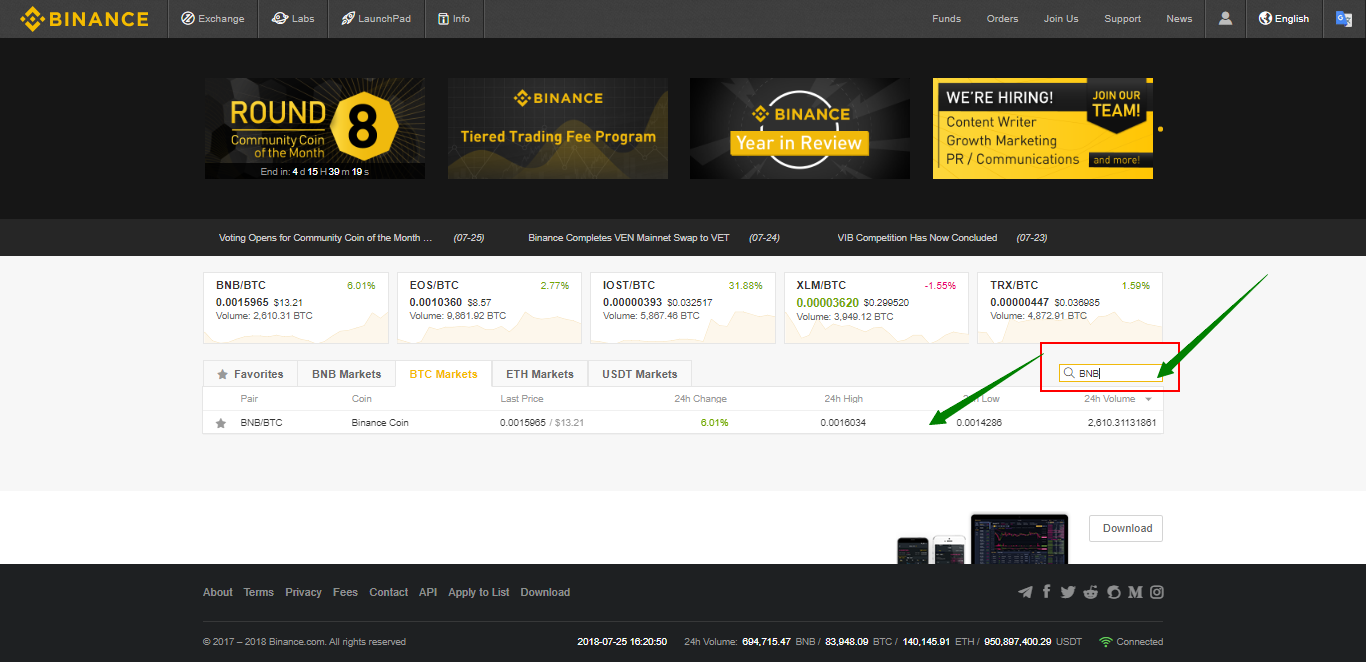 You will be routed to the display of the transaction of Binance. Scroll down and to "Buy."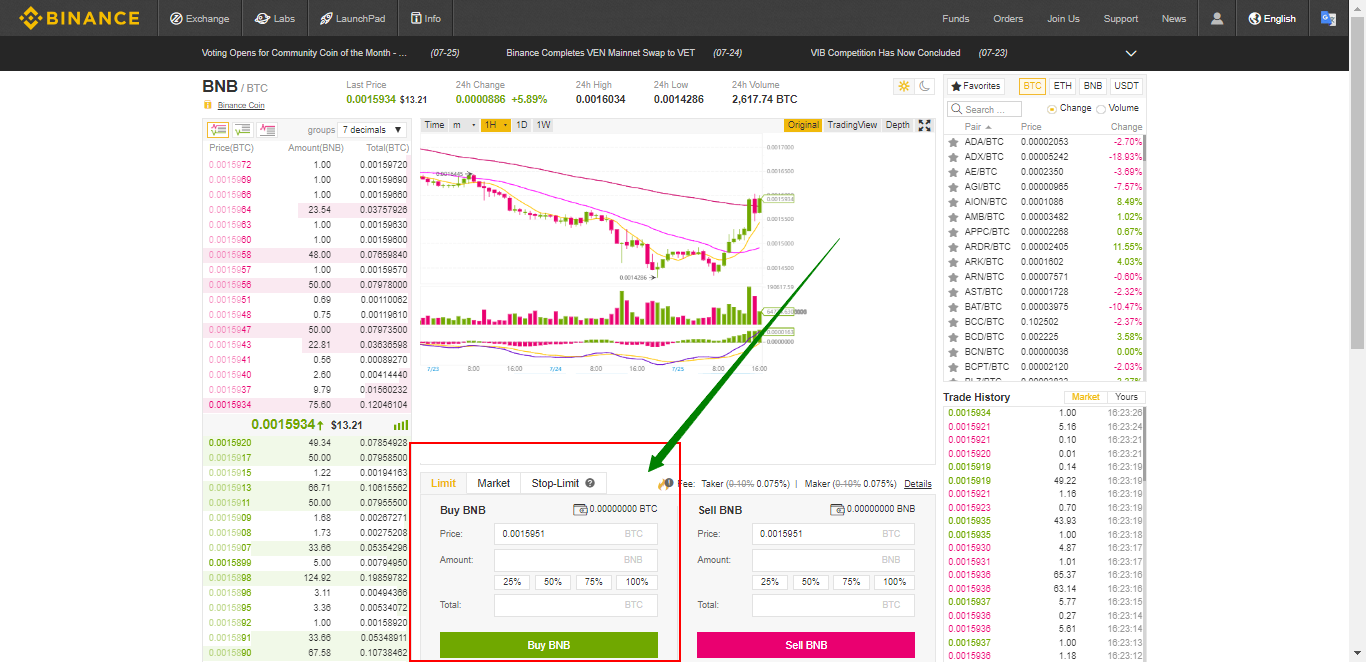 Refer to the Cocos-BCX (COCOS) price on the left. Choose a right sale price of BNB and enter the number, then click the "Buy BNB" button.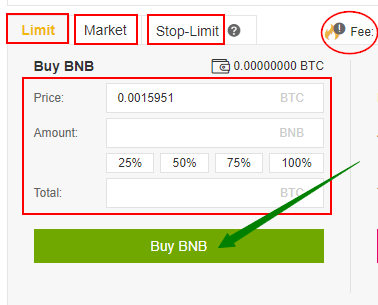 Congratulations! You have bought your first Cocos-BCX (COCOS) on Binance.