Step by step overview on how to buy Ethereum on 1BTCXE
1BTCXE is an open-source crypto exchange platform that allows its users to buy Ethereum using 30 different fiat currencies. It aims to provide more comfortable and more reliable trading.
The steps below will help you on how to start trading Ethereum on 1BTCXE.
1. Sign-up on 1BTCXE
To start, open the 1BTCXE site.
On your screen click the "Register" button which you can find on the top or lower left of the page.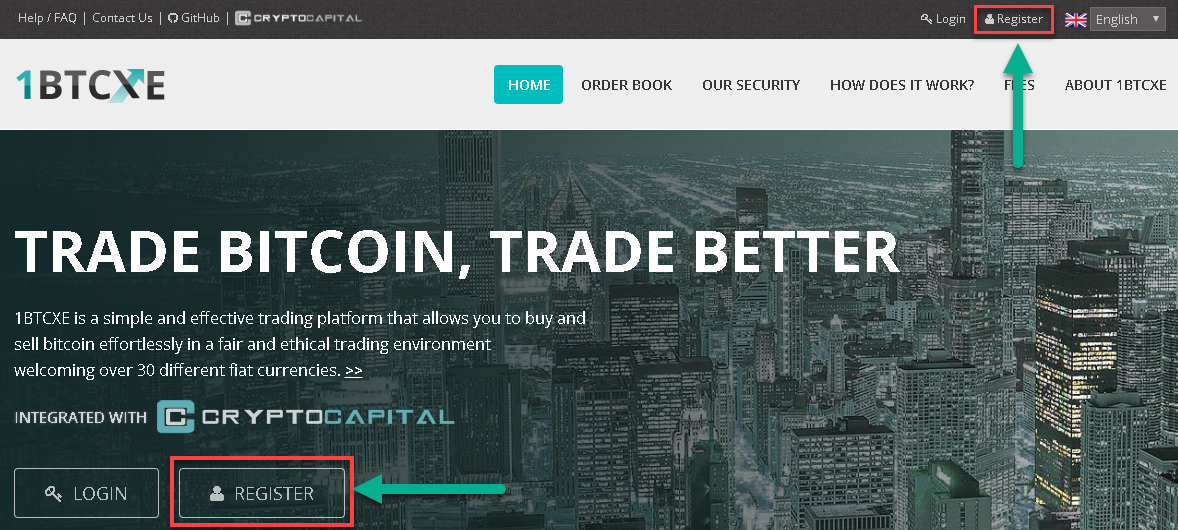 Type in your preferred email address and default currency, tick on the 'Agreement' and 'I'm not a robot' boxes, and once done click Register.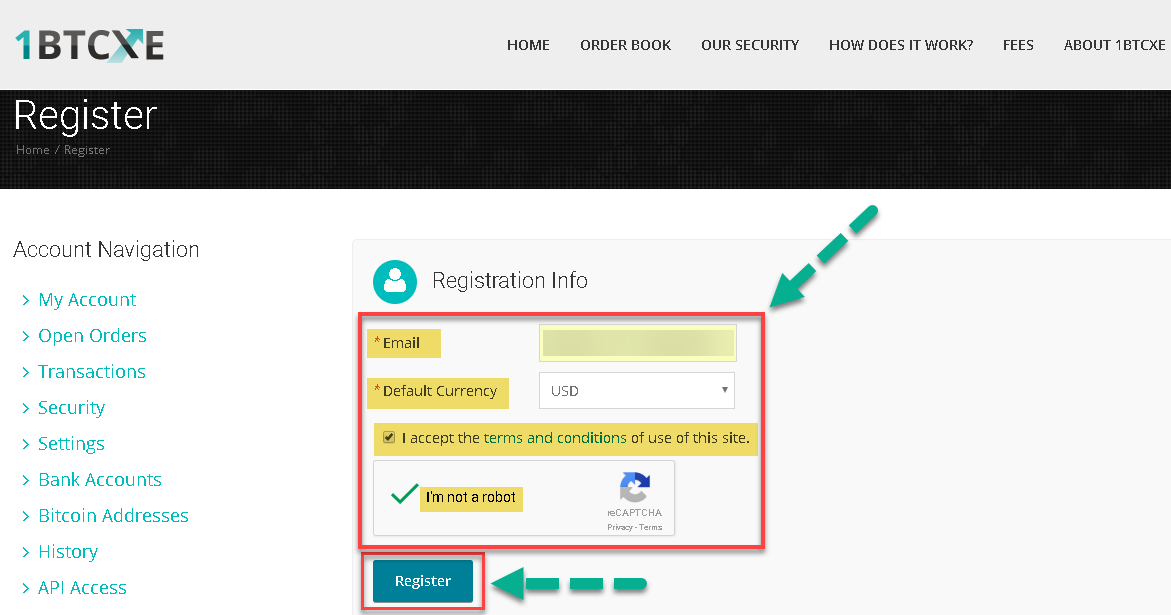 You will receive an email with your username and temporary password.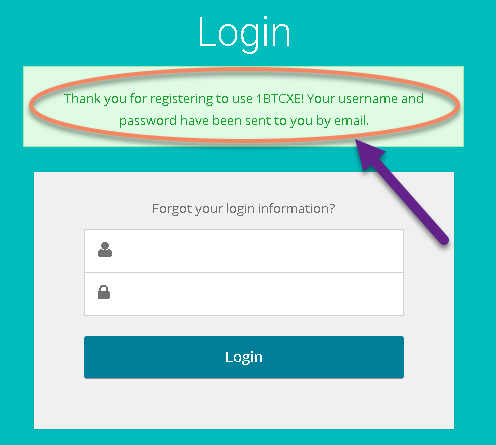 Here is a sample email from 1BTCXE which contains a username and password.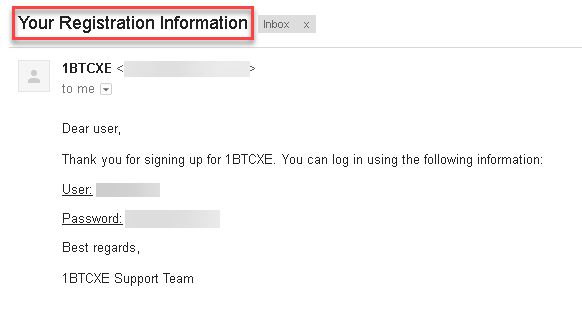 There you go! You have successfully created an account on 1BTCXE. 
2. Change your 1BTCXE account password
Next in line is to change your password. To do this, log-in to your account using the username and password you received.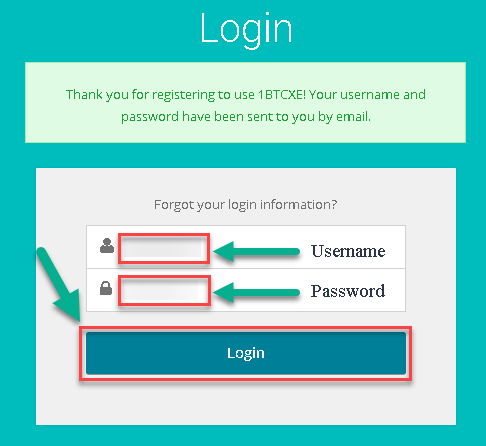 Choose a secure password and make sure that you're the only one who knows about it. Type it in the 'Change Password' and 'Confirm Password' fields, then click the "Set Password" button.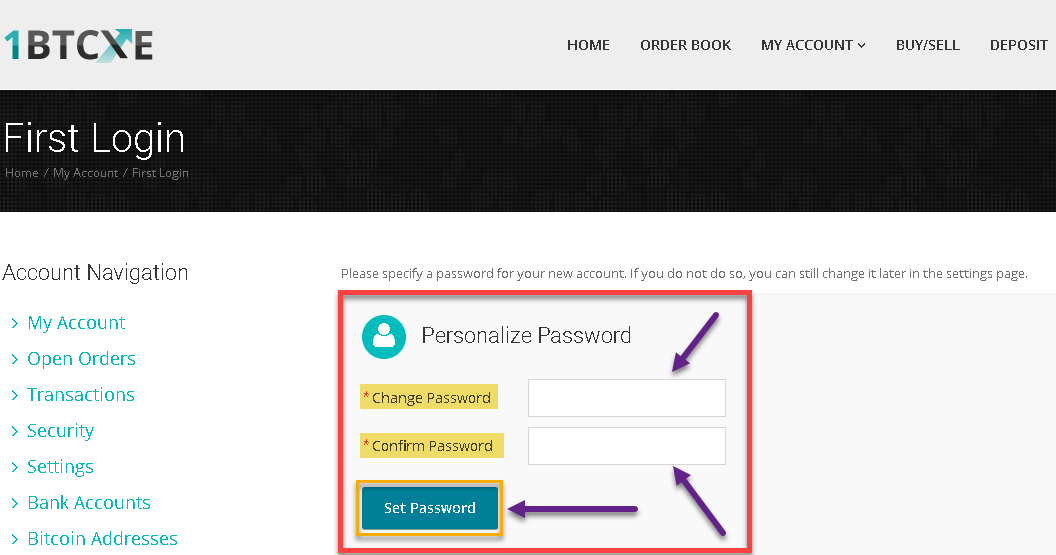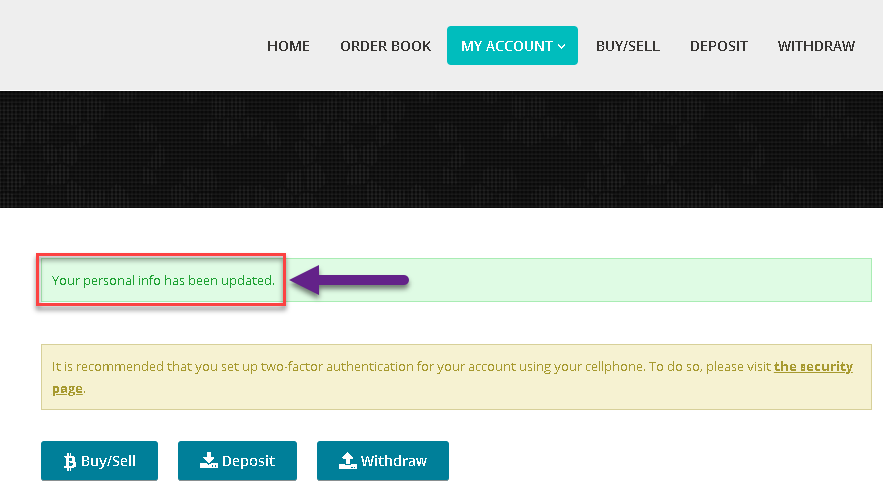 Nice work! You have now your new password.
3. Secure your 1BTCXE account by setting a 2-factor authentication (2FA)
What is 2FA?
Two-factor authentication, also known as 2FA, is an extra layer of security or added protection which we refer as multi-factor authentication. Not only the username and password are required but also a piece of information that only a user possesses. This process is to confirm a user's claimed identity.
The 2FA process helps lessen the number of identity theft cases and as well as phishing via email. It would be harder for potential intruders to gain access and steal someone's identity and personal data without that piece of information that only the account owner knows.
In the case of exchanges what the user has are his/her login details such as the username and password. The form of 2FA that a user possesses for this instance is a token or code. The code can be received either through SMS on a user's mobile phone or via applications like Google Authenticator or Authy.
For this step, we will show you on how to enable 2FA using the Google Authenticator app. Go to the "Security" section located on the left side of the screen, or you can also click the 'security page' link.
Check this if you want to learn more about Google Authenticator.

The first thing to do is to download the 'Google Authenticator' app on your smartphone which you can find on your 'Play Store' app. Click "Enable 2FA" to go to the next page.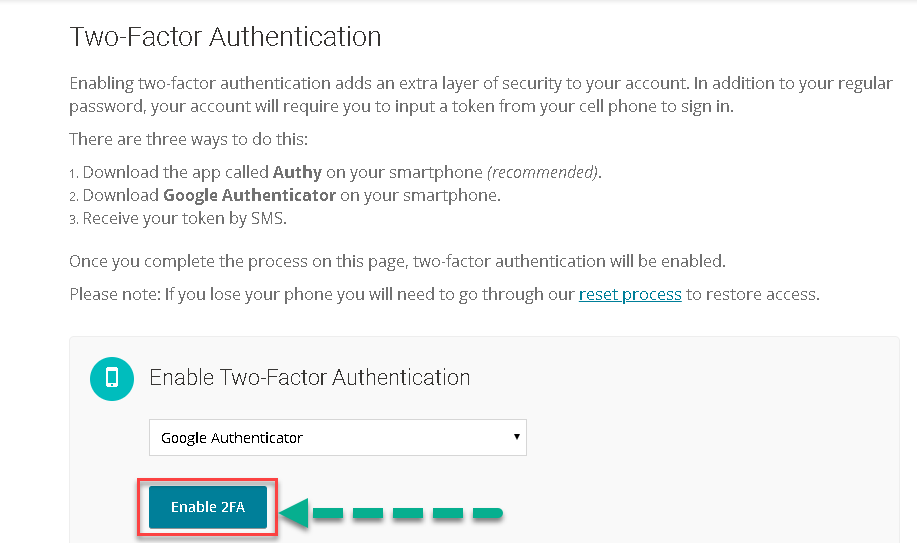 To authorize the action, you will have to check your email and follow the link received.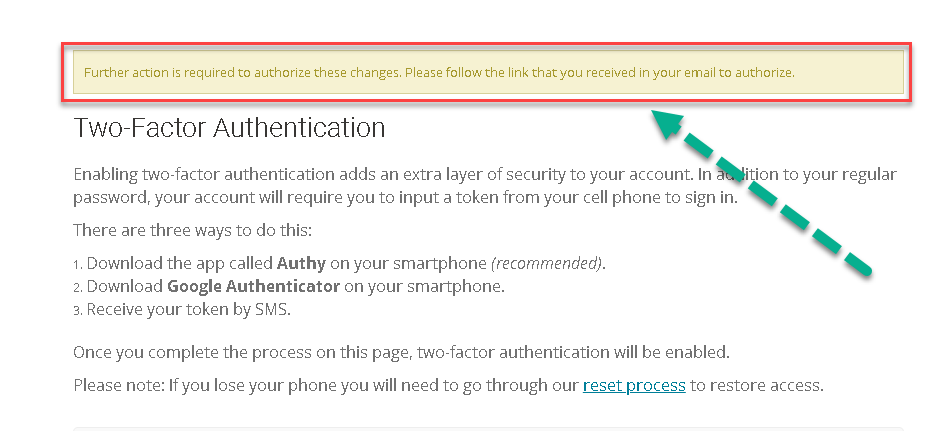 Click on the 'Authorization link' that is in the email. The next 2FA set-up page will open, and from there you can continue with the process.

Open the 'Google Authenticator' app on your smartphone and scan the QR code. Alternatively, you can also enter the 'Secret code' provided. This action will add your 1BTCXE account on the app and generate a 6-digit code.  Enter this code on the "Your Token" box and hit Validate.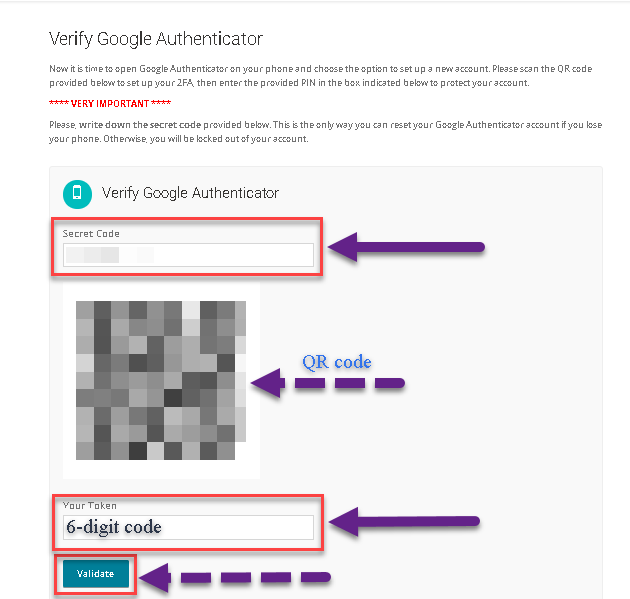 Below is an example of a 6-digit code.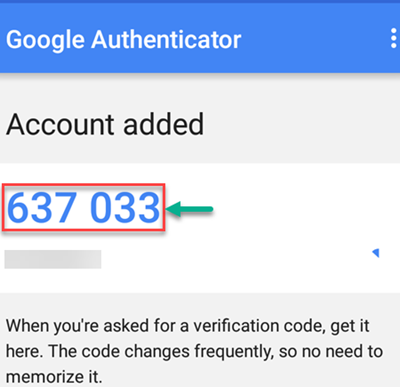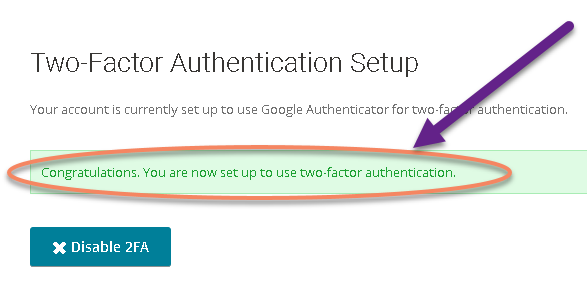 Great! Two-Factor Authentication is now active on your 1BTCXE account.
4. Funding your 1BTCXE account
To provide users the convenience of 30 different fiat currencies on a single account, 1BTCXE decided to partner with Crypto Capital Corp. As such, funding your 1BTCXE account will require you to create an account with Crypto Capital. You will then link it to your 1BTCXE account so you can make a deposit.
Click here to help you get started with Crypto Capital.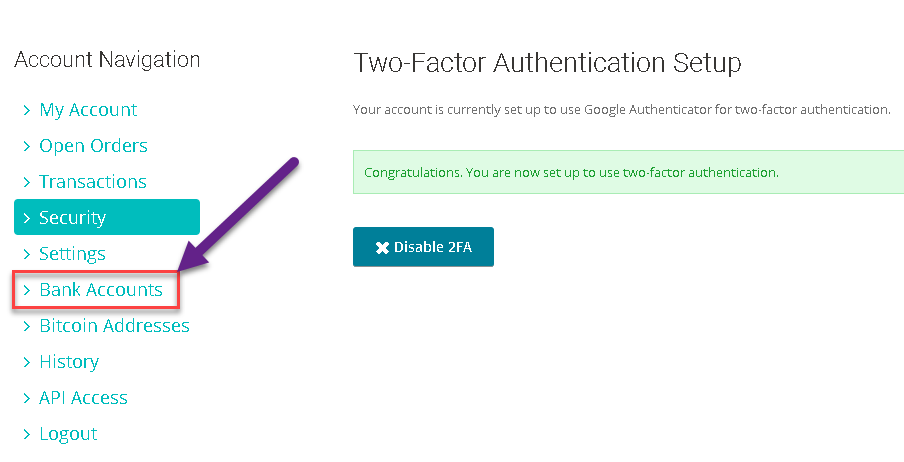 After creating and funding your 'Crypto Capital' account, we will now associate it with your 1BTCXE account. Do this by clicking the 'Add Account' button.
Here, you will be asked to enter your Crypto Capital Account Number, Description, and Currency. Confirm that all information is correct especially the Currency. Failure to provide the Currency correctly will result in a conversion fee. If everything is validated, click on Add Account.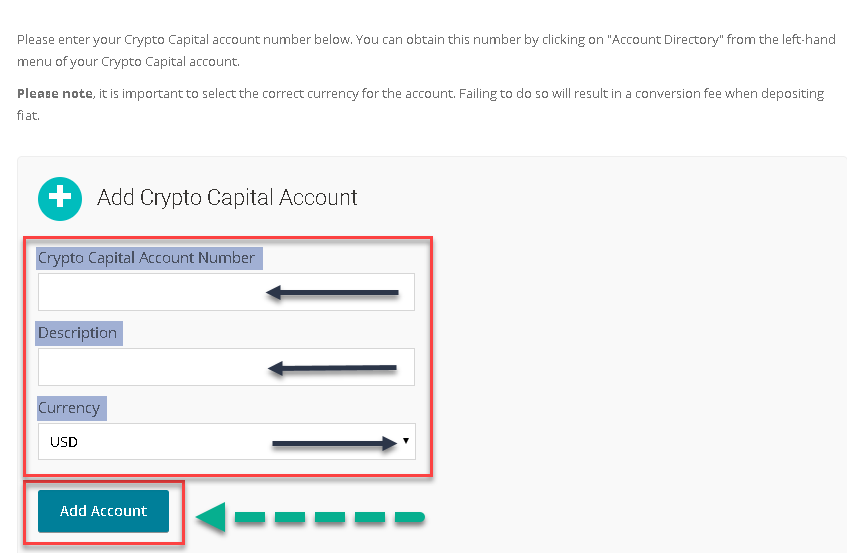 Here you will see the success of adding your Crypto Capital into your 1BTCXE account. You can now proceed and make a deposit.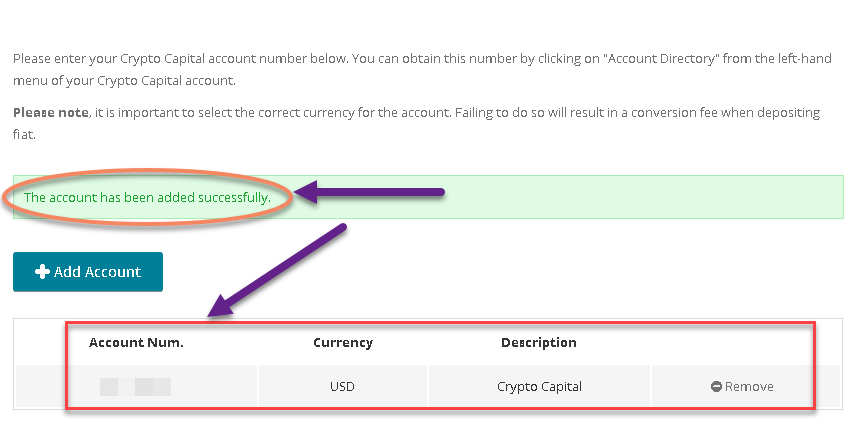 Go to the 'Deposit' section by clicking on the 'Deposit' tab on top of the page.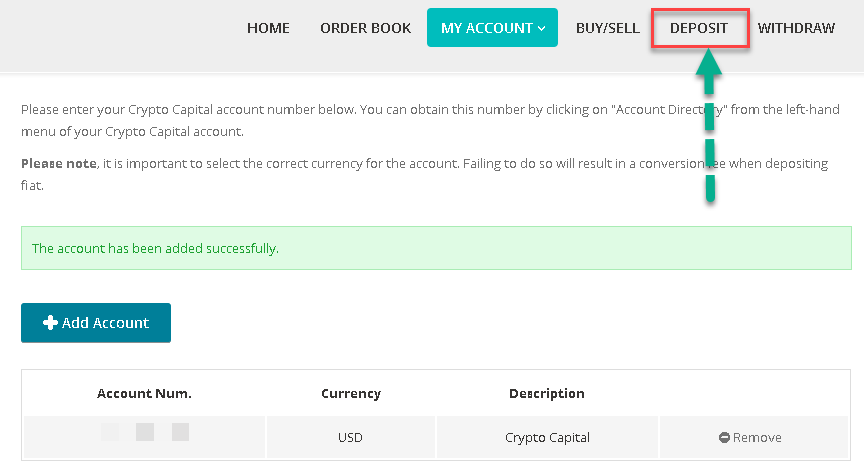 This time you will see three easy steps on how to transfer money from your Crypto Capital account into your 1BTCXE account. You can move to step three since you have already performed steps one and two.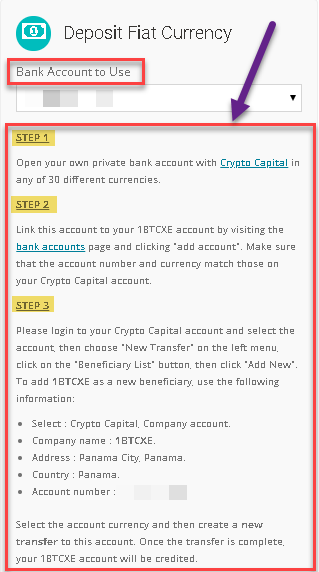 Your account will then be credited once the fund transfer is complete. Access your 'My Account' page to view your balance.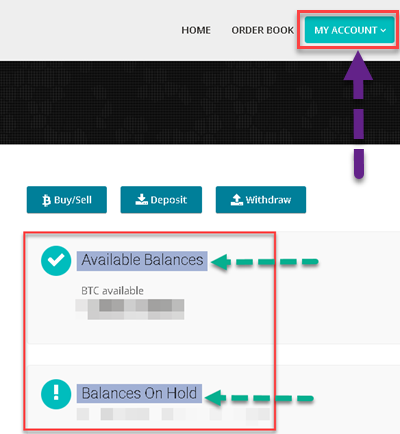 Awesome! You have funded your 1BTCXE account.
5. Start trading Ethereum on 1BTCXE
Now that your account is secured and funded let's go ahead and buy your first Ethereum.
On the top of your screen click on the 'BUY/SELL' tab.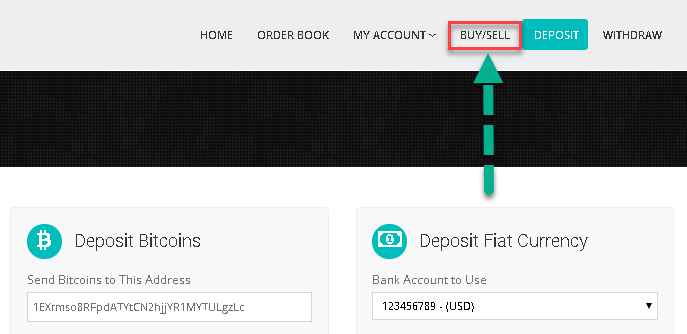 Think of the amount of Ethereum you wish to buy and enter it on the 'Amount to Buy' box. Do the same with Currency to use. Select among the three order types (Market, Limit, Stop) you want to utilize, and if you are okay with all the details hit on the "Buy Ethereum" button.
If you want to know more about Market, Limit and Stop order click on the 'Question mark' icon beside each Order type.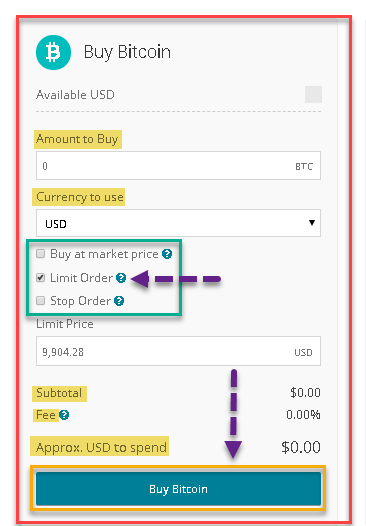 Before completing your order, a 'Summary' page will show up. Allow time to review all the information and if everything gets your approval do click the confirmation button.
View your order by going to the 'Open Orders' section.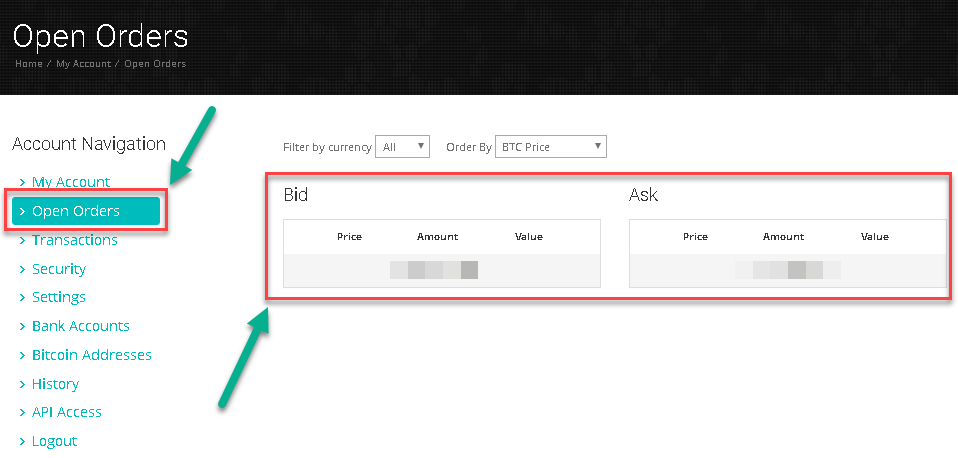 Congratulations! You just made an order for your first Ethereum on 1BTCXE.