Step by step overview on how to buy Origin Sport (ORS) on Bitfinex
Bitfinex is a Hong Kong-based cryptocurrency trading platform founded in 2012 which caters mostly to more intermediate and advanced traders.  The crypto market is considering this platform as one of the world's most advanced and largest exchange by volume for trading Bitcoin against the US Dollar. There are approximately 72 market pairs linked to the four base currencies of USD, EUR, BTC, and ETH which are currently available on the site.
With this, we have prepared steps that are straightforward and easy for you to follow in buying your first Origin Sport (ORS) on Bitfinex.
1. Sign-up on Bitfinex
The first thing you need to do in order to buy Origin Sport (ORS) on Bitfinex is to create an account.  To create an account on Bitfinex, click on the button below and follow the instructions.
On the main page click the 'Sign Up' or 'Open Account' button to register.

Read through the guidelines and put a check mark on each box as a sign of your agreement. Click 'Proceed' to continue to the next page.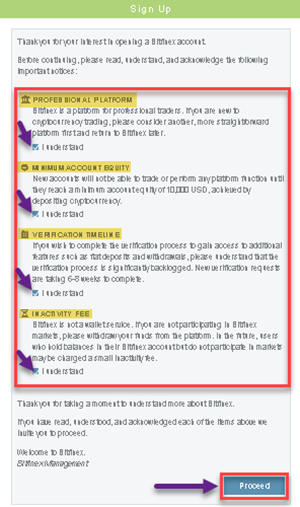 Input your preferred Username, Email address, and Password. Don't forget to select your Timezone and enter the Captcha Text on the box provided. Press the 'Open Account' button to proceed.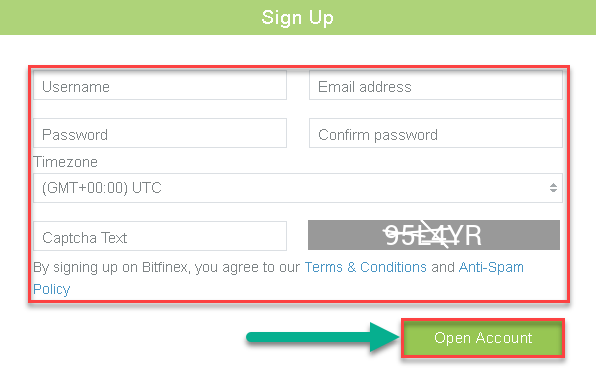 Open your email to confirm the email address that you've provided.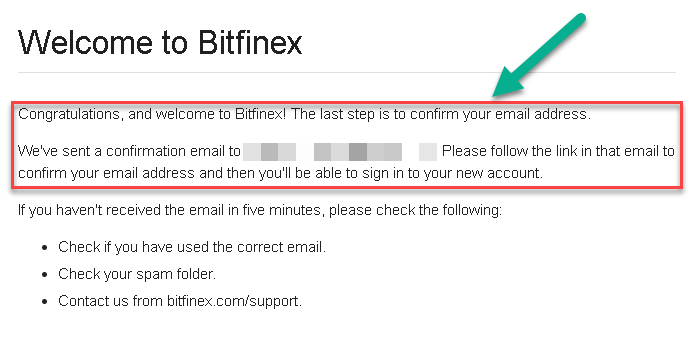 Click 'Confirm Email Address' to complete the process.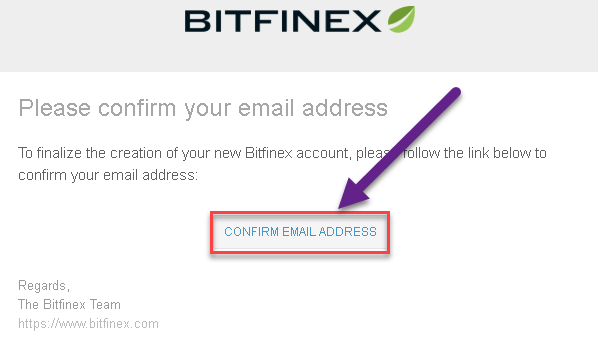 After clicking the link, a message will show on the site indicating that your email was successfully confirmed.

Good job! Your account registration is now complete.
2. Get verified on Bitfinex
Verifying your account on Bitfinex allows you to access different features on the platform such as making deposits, withdrawals and buying Origin Sport (ORS) using fiat money.
To verify your account, you have to log-in first. Click on the 'Log In' button at the top right corner of the screen and enter your Username, Password, and the Captcha Text as shown below. Afterward, hit on Log-In.
Tick on the 'Manage Account' menu as described in the image below and select Verification.
Hit on the 'Begin Verification' button to begin the process.

Provide answers to the three preliminary questions such as the Account Type, Country, and your Reason/s for Verification Request, then click Continue.
On the next screen, another set of terms & conditions will pop-up. If you agree to it, tick on each box and hit Continue.

Here you will have to choose the type of account you wish to open and verify. As an individual who only intends to trade for personal use do select the button for Individual Account. Go for Corporate Account if it's for company use.

Take time to review the 'Verification Requirements' and as well as the important notes below. After reading, click on the 'Continue to Individual Verification' button.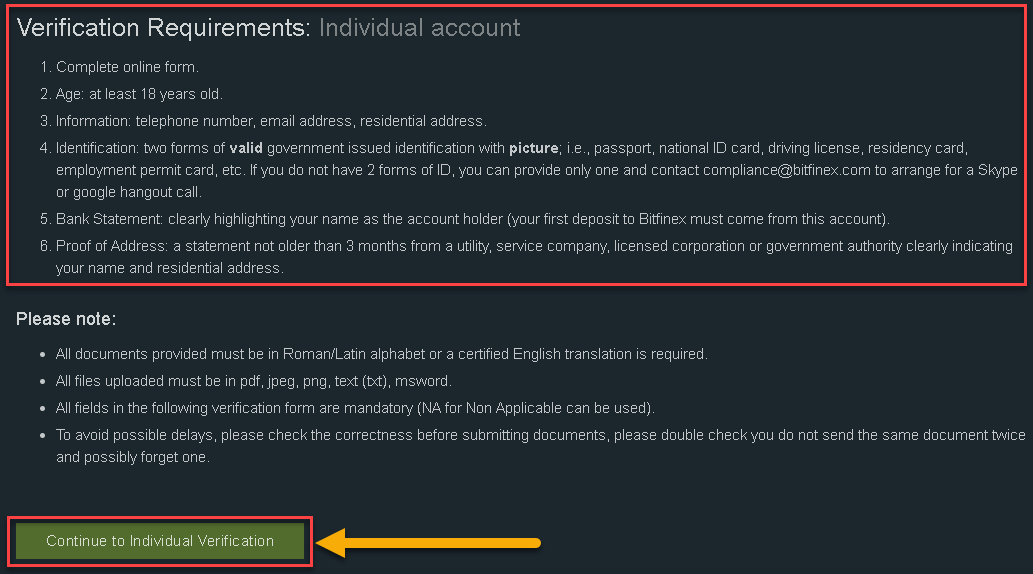 There are five stages of verification on Bitfinex (Name & Contact, Address, Identity, Financial and KYC). You have to comply with each of these stages. The information you provide should be correct and up-to-date to avoid delays. You will receive a notification once your request gets approval.
Note: Due to the high volume of Verification Request, the process may take 6-8 weeks.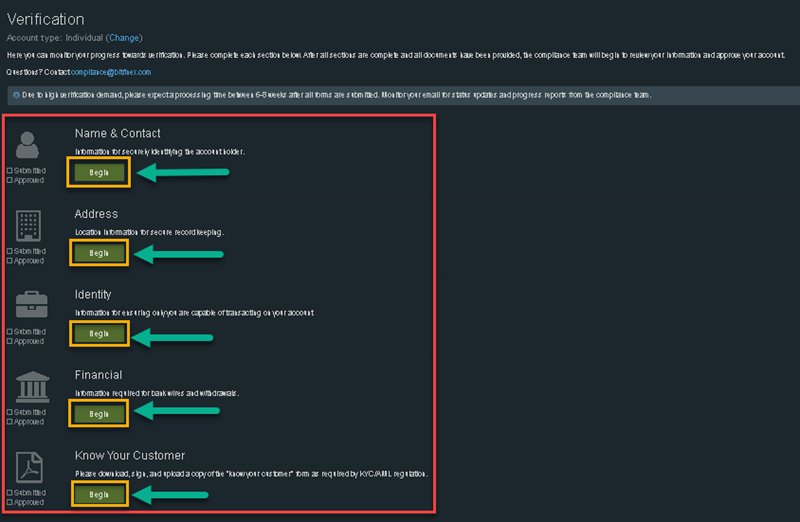 Perfect! Your Bitfinex account has been verified.
3. Secure your Bitfinex account by setting a 2-factor authentication (2FA)
What is 2FA?
Two-factor authentication, also known as 2FA, is an extra layer of security or added protection which we refer as multi-factor authentication. Not only the username and password are required but also a piece of information that only a user possesses. This process is to confirm a user's claimed identity.
The 2FA process helps lessen the number of identity theft cases and as well as phishing via email. It would be harder for potential intruders to gain access and steal someone's identity and personal data without that piece of information that only the account owner knows.
In the case of exchanges what the user has are his/her login details such as the username and password. The form of 2FA that a user possesses for this instance is a token or code. The code can be received either through SMS on a user's mobile phone or via applications like Google Authenticator or Authy.
In this step, we will use the Google Authenticator app to illustrate the enabling process of 2FA on your Bitfinex account. To start, open the 'Manage Account' menu located in the top right corner and click on Security.
Check this if you want to learn more about Google Authenticator.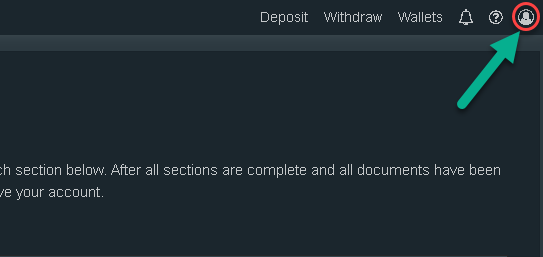 Look for 'Two-Factor Authentication' and click on it.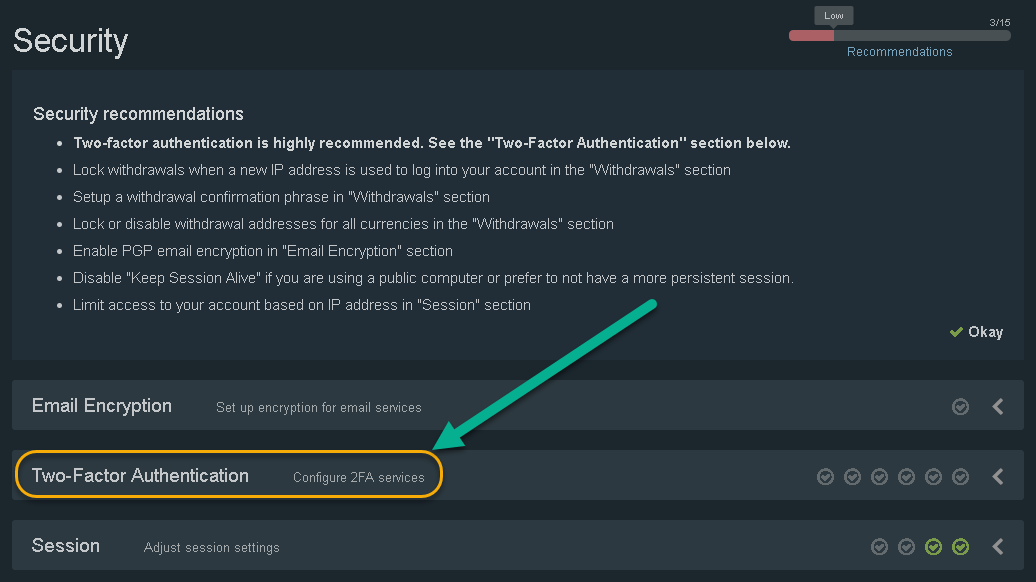 Press the 'Setup' button under the Google Authenticator section.
Download the Google Authenticator app and scan your QR code. Type in the 6-digit code from the Google Authenticator app on the '2FA token' box and then hit Enable.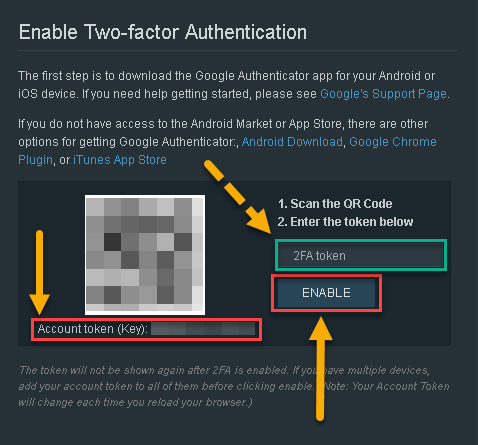 Here is an example of a 2FA token(6-digit code) from the Google Authenticator app.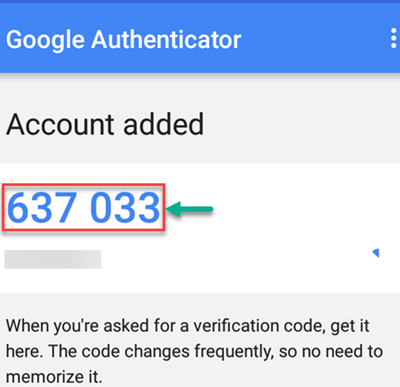 To complete this step, you will have to access your email.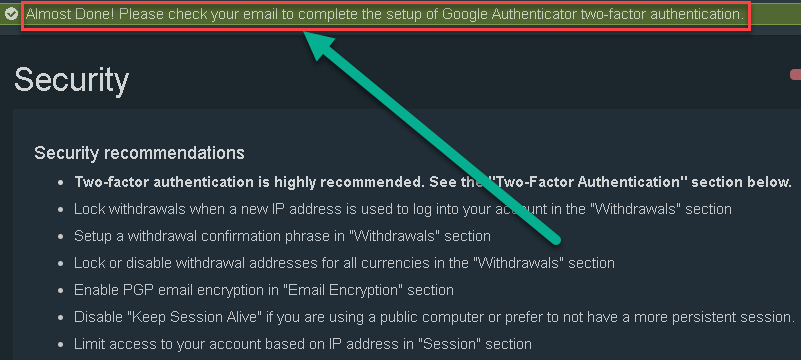 Look for the recent email from Bitfinex and click 'Activate Token 2FA Now' to achieve completion.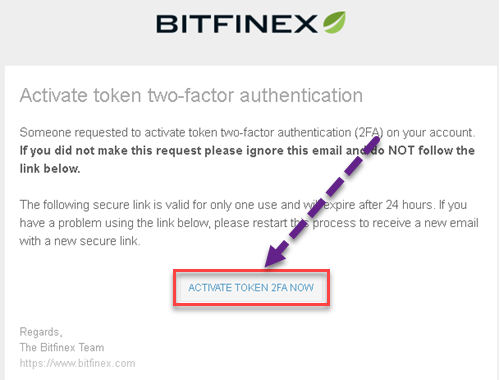 A message will appear indicating that the 2FA process is now complete.
Nice work! Your account is now safe.
4. Funding your Bitfinex account
Funding an account on Bitfinex can be done in different ways. You can deposit using fiat money through Bank Wire and Tether or deposit using cryptocurrencies.
Note that deposits via fiat money require an account to pass verification first. Cryptocurrency deposit does not require 'Verification' though. So while waiting for the approval of your request, you may want to fund using a cryptocurrency of your choice. For newly opened accounts initial account equity of 10,000 USD is also required before all features are made available to you such as Trading Origin Sport (ORS) on Bitfinex.
To make a deposit, click on the 'Deposit' tab at the top of the page.

The 'Deposit' section will show you different options on how you can put money into your account. After getting approval for your Verification Request, you can now fund using fiat money. To initiate, click on the currency you wish to deposit under Bank Wire. Follow the next instructions by filling out the form with your bank details including the amount of your deposit.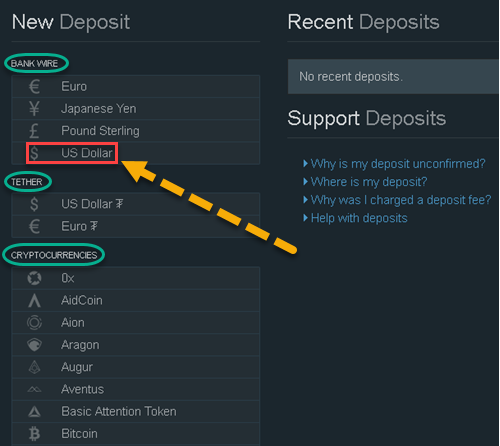 After the deposit goes through, the amount will appear on the 'Balances' section located on the left panel of the screen.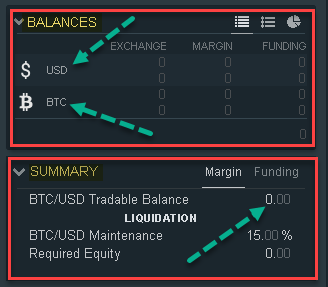 Awesome! You have funded your Bitfinex account.
5. Start trading Origin Sport (ORS) on Bitfinex
After acquiring funds into your Bitfinex account, it is now time to buy your first Origin Sport (ORS).
Before doing so, you must first make sure that funds are available on your 'Exchange' wallet. You should use this wallet when buying & selling supported tokens. On the top of your screen locate the 'Wallets' tab and click on it.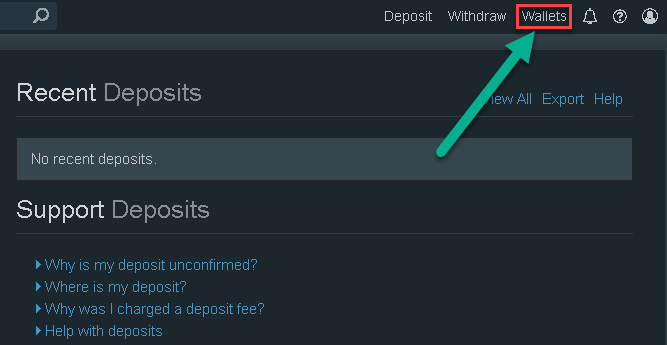 Enter the "Amount" you want to transfer and select the "Currency" as well as the "Sending" wallet or the wallet where you'll be getting the funds and the "Receiving" wallet. Hit 'Transfer' once done.

Now, you can go ahead and buy Origin Sport (ORS) on Bitfinex. Tick on the 'Trading' tab just beside the Bitfinex logo.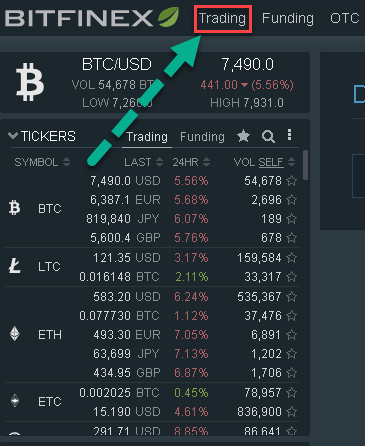 Choose the Origin Sport (ORS) you intend to buy first and then select your Trading Pair (Origin Sport (ORS) you want to buy + funding currency)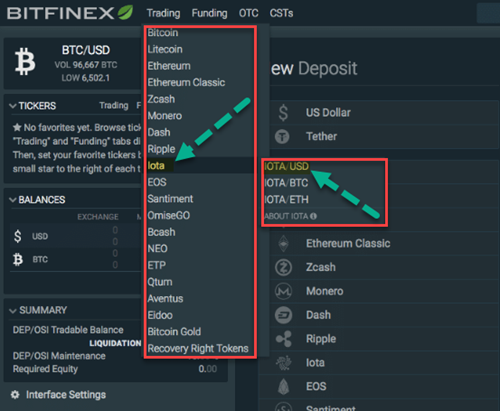 A new window will pop-up which is the Order form. On the first box, select your preferred Order type. The default on this Order form sets 'Limit' as the order type. Here you will have to place the amount you are willing to spend on the 'Price USD' box and the amount of Origin Sport (ORS) you aim to buy on the 'Amount Origin Sport (ORS)' box. Confirm that everything is correct and hit the 'Exchange Buy' button.
Note: Please click here if you want to know more about the different Order Types.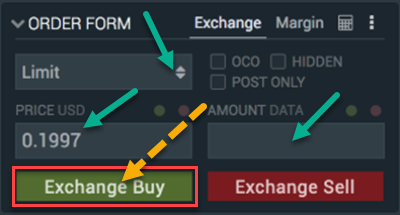 If you want to check your order, all you have to do is go to your 'Orders' section. From the 'Manage Account' menu, click on 'Reports' and then 'Orders' under Trading located on the left side.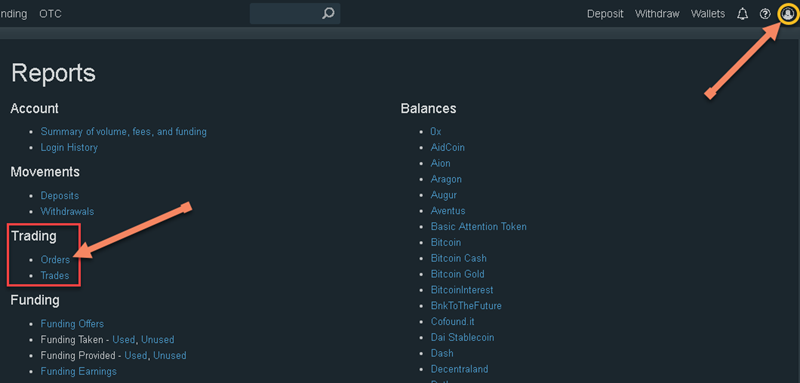 Hit 'View' to quickly check your order. You can also download the report if you want to.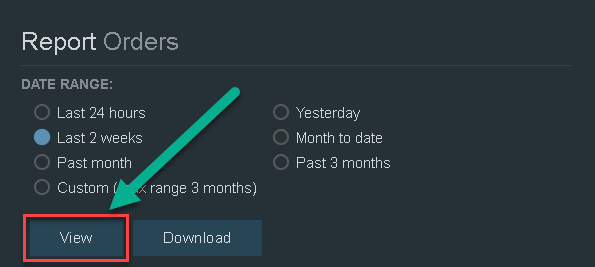 The image below shows the 'Orders' section where you can see the details of the order you just made.

Congratulations! You now got your first Origin Sport (ORS) on Bitfinex.