Step by step overview on how to buy XRP (XRP) on BitBay
Here is a step by step image guide on how to buy XRP (XRP) on Bitbay, one of Europe's leading cryptocurrency exchanges. The process is listed below and is very straightforward.
1. Sign-up on BitBay
To start, go to https://bitbay.net/en.
Click on "Open a Free Account" on the bottom center of the page.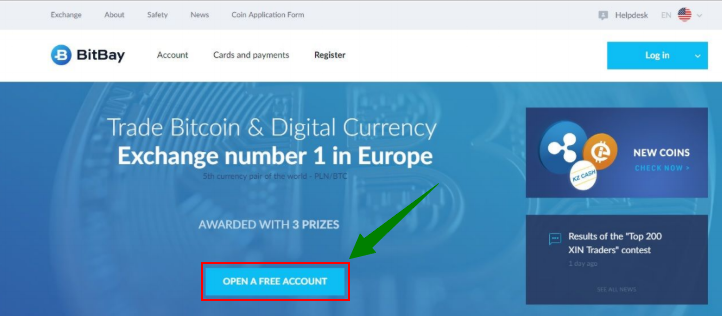 Then click the 'Email' button.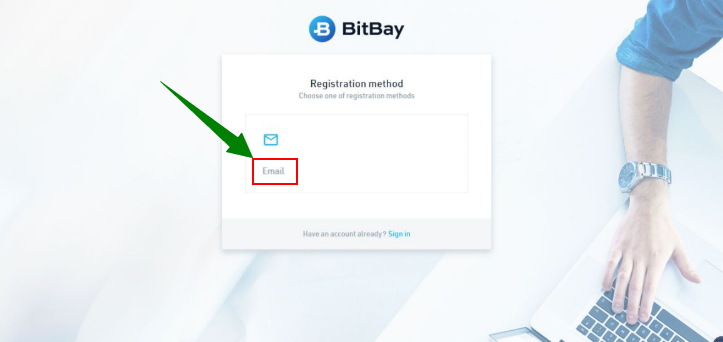 Enter your email address and tick the agreement box to declare that you have read their terms and conditions. Additionally, you can also check the next button if you like to receive updates regarding features on BitBay. Click on the Register button to proceed.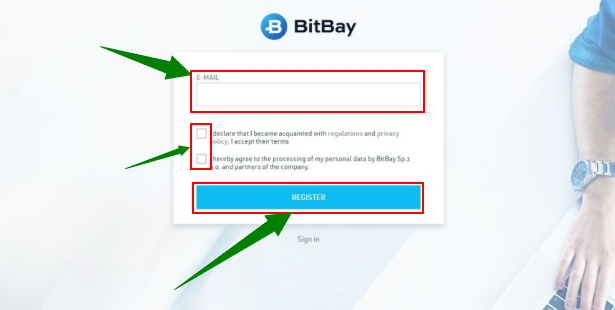 Open up the account activation email from Bitbay in your inbox and click on the "Activate Account" button.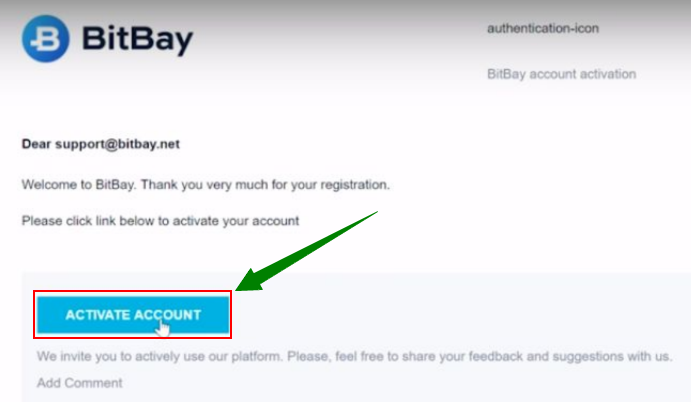 To finish your registration, you will have to create your username and password. Come up with a password that has at least eight characters. It must include upper and lower case letters, numbers and special characters. Re-enter your password and create a 4-6 number security code(PIN). Hit 'Next' to continue.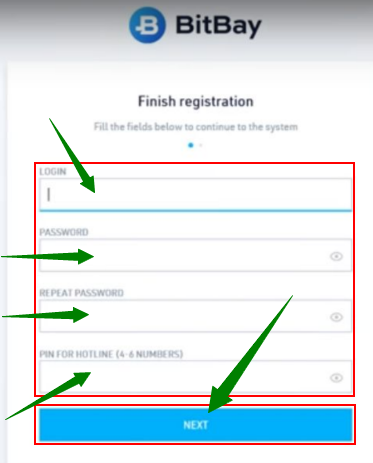 Select your 'Country' from the drop-down menu and your default currency. To complete your registration click on the 'Create Account' button.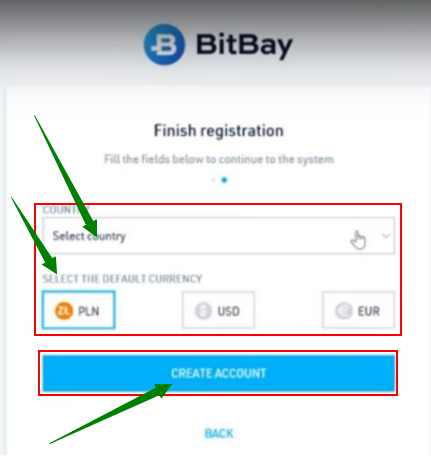 Awesome! Your BitBay registration is now complete.
2. Get verified on BitBay
If you plan to deposit US Dollars, Euros or Polish Zloty, you must go through a verification process.
To do this, you must log-in to your account first by clicking on the 'Log-In' button at the upper right of the screen.
Click on 'Dashboard' at the top left of the page.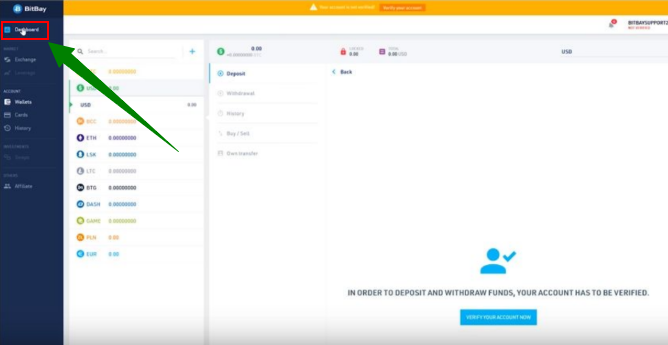 Click on 'Verify your Account' on top the page.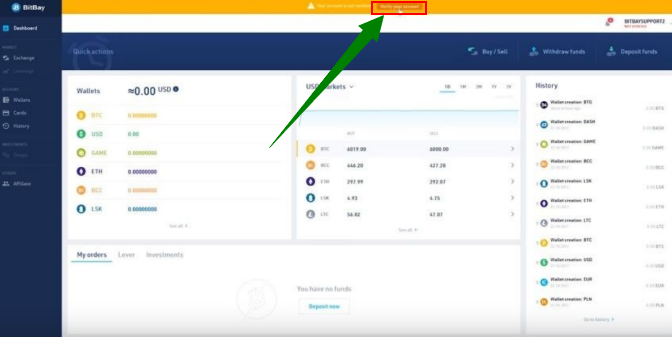 Choose whether your account is Personal or Company. For individuals choose the 'Personal account' option. Whereas 'Company account' is for company use.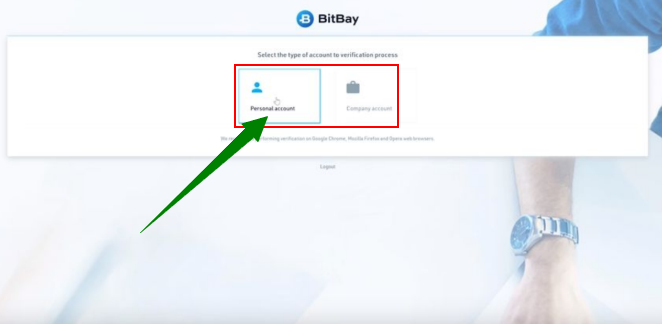 A form will pop-up wherein you have to enter your Name, Surname, Home address, Postal code, City, and Country. Click Next to proceed.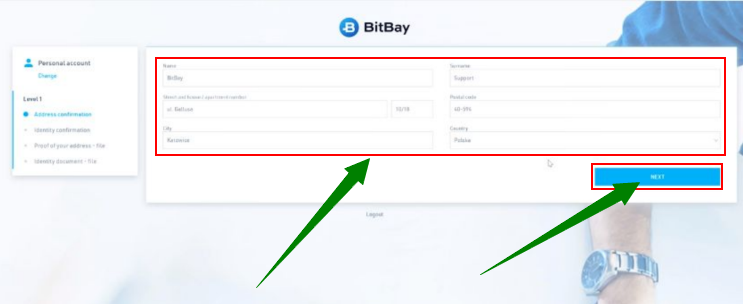 After you click on next, you will be asked to enter your ID number, Expiry date, Issued date of your ID, Birth date, and Phone number.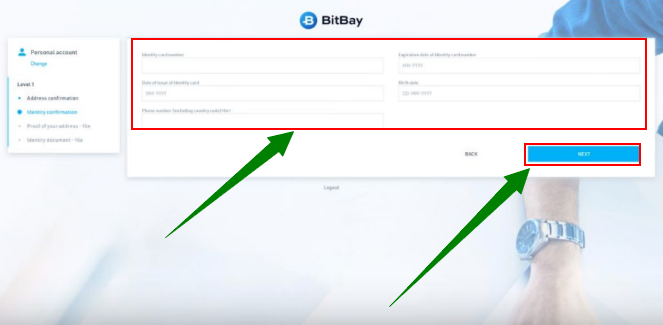 Verify your address and provide an identification document on the next page. It should be within six months from the issue date. This document can be a bill, agreement, official paper or a bank account statement and must be in jpg or png format. Click 'Next' to continue. Provide a copy of your ID (front and back) to complete this process. Read through the guidelines to make sure you don't miss important details. You will know the status of this action within 24 hours.
Note: Identification Document should be government-issued, Driver's License or Passport, etc.
Nice work on verifying your BitBay account!
3. Secure your BitBay account by setting a 2-factor authentication (2FA)
What is 2FA?
Two-factor authentication, also known as 2FA, is an extra layer of security or added protection which we refer to as multi-factor authentication. Not only the username and password are required but also a piece of information that only a user possesses. This process is to confirm a user's claimed identity.
The 2FA process helps lessen the number of identity theft cases and as well as phishing via email. It would be harder for potential intruders to gain access and steal someone's identity and personal data without that piece of information that only the account owner knows.
In the case of exchanges what the user has are his/her login details such as the username and password. The form of 2FA that a user possesses for this instance is a token or code. The code can be received either through SMS on a user's mobile phone or via applications like Google Authenticator or Authy.
In this step, we will use the Google Authenticator app to illustrate the enabling process of 2FA on your BitBay account. To start,  go to the 'Security' tab located on the right panel.
Check this if you want to learn more about Google Authenticator.

Tick on 'Google Authenticator' to activate 2FA and then click the 'Save Changes' button.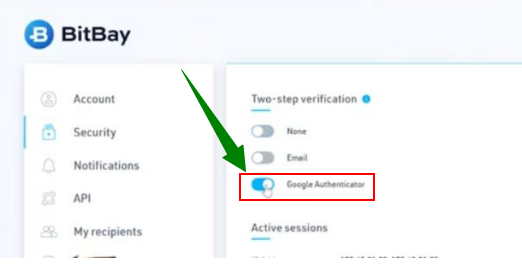 Open your Google Authenticator app and scan the barcode. Enter the Authentication code that is generated by the app to the field provided. Hit Confirm to continue.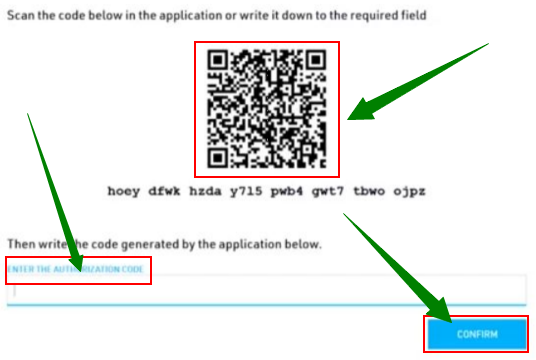 Finally, to confirm the action taken, you will have to enter a code that you receive in your email from Bitbay.
Perfect! Your BitBay account is now secured.
4. Start trading XRP (XRP) on BitBay
After passing the account verification stage, your account will now be able to accept deposits. Once there is money in it you can go ahead and buy your first XRP (XRP) on BitBay. Below is the summary of the buying process.
Click on the 'Exchange' tab at the top left of the page to see the various currencies that you can buy and sell. Click on Place an Order. Select a XRP (XRP) that you wish to buy and its amount. After this, the price gets calculated automatically. Alternately, you can also enter a dollar value or the amount you are willing to spend, and the amount of XRP (XRP) that you'll receive gets calculated automatically. Verify that all information is correct. Click on the 'Buy' button to finalize the transaction.
Congratulations! You have just completed your first XRP (XRP) transaction on BitBay.