Step by step guide on how to buy Dash on xBTCe
Founded by a group of experienced traders, finance professionals and crypto enthusiasts in 2015, xBTCe is one of the fastest exchange platforms in the world of cryptocurrency. Aside from Bitcoin and the traditional Fiat currency pairs, it also quotes top altcoins like Litecoin, Ethereum, Dash, and continues to monitor the market to add some to the list.
Here's a guide that will help you buy your first Dash on your xBTCe account:
1. Sign up on xBTCe
Go to https://my.xbtce.com/.
Click on "Registration" at the top right corner of the page.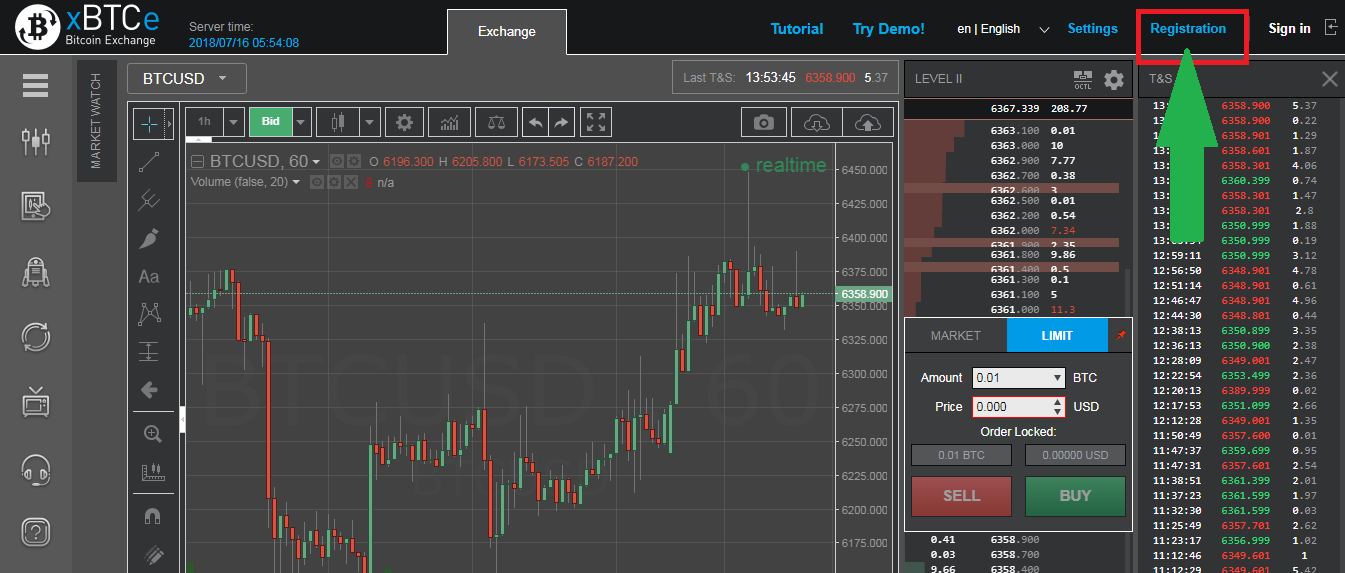 You can register quickly and securely through a social network, or you can fill out the form registration form. Click on "Next" after.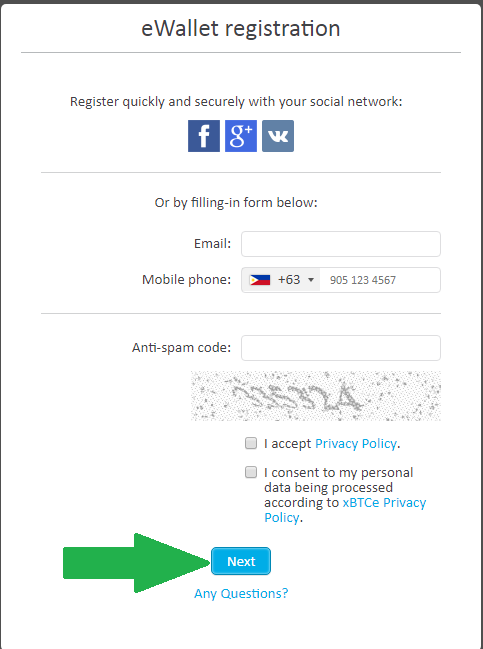 Next, select your password. You can either try to have the generated password or use the one you preferred, then click on "Submit."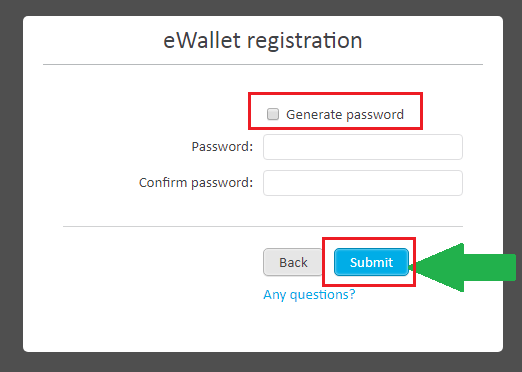 Nice! You have just created an account on xBTCe.
2. Confirm your xBTCe account via email
To confirm your account, open your email and click the link from xBTCe. You will be redirected back to the xBTCe website after. Click on "Login" to continue.
Please take note of your PIN code for it will be shown only once. You will need this for your future withdrawals and transfer of funds.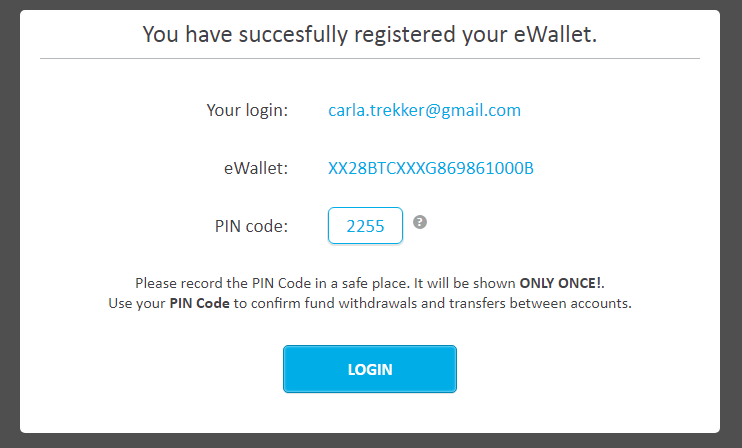 Or you can also login using the email and password you registered.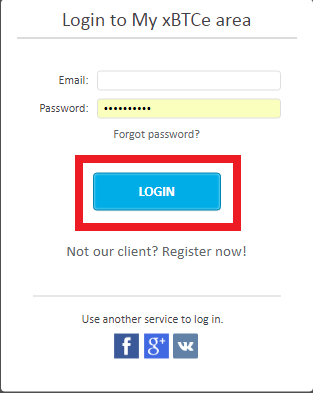 Great! You are now ready to explore your xBTCe account.
3. Verify your xBTCe account
You can check at the upper-right corner of the page that your account is not yet verified. Click on the "Verify" to start.

Choose the eWallet type you prefer.

Next, enter the information needed, and then click "Submit."
Awesome! You can now deposit to your xBTCe account.
4. Protect your xBTCe account by enabling 2FA
Protecting your account is a must to keep your account safe. To do this, the account user must set up a 2FA or 2-Factor Authentication. It is an extra level of protection having one part as your username and password, and the other a piece of information like something the account owner knows, have or is, which includes OTPs send to your mobile phone,  PINs, answers to "security questions," or a biometric pattern of a fingerprint.
To start setting 2FA on xBTCe, go to "Settings" and select "Account Security."
Click "Get Started."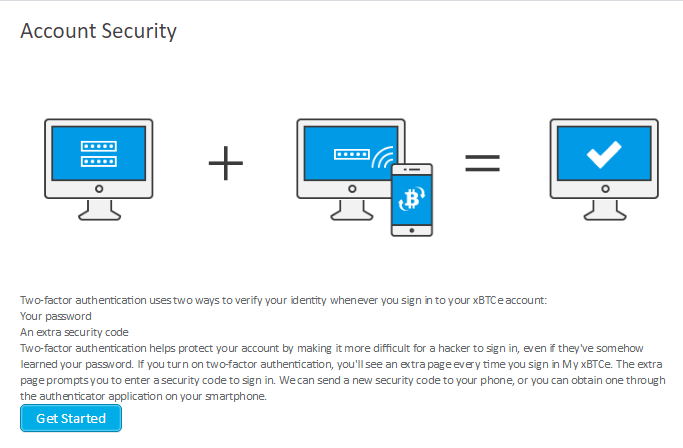 Download and install the Google Authenticator mobile application. Next, open the app and scan the QR code. After scanning, enter the generated code and the PIN code, then click "Verify."
Wonderful! Your xBTCe account is now protected. 
5. Deposit funds on your xBTCe account
From the homepage, go to "Add Funds." Choose from the options provided which platform do you prefer.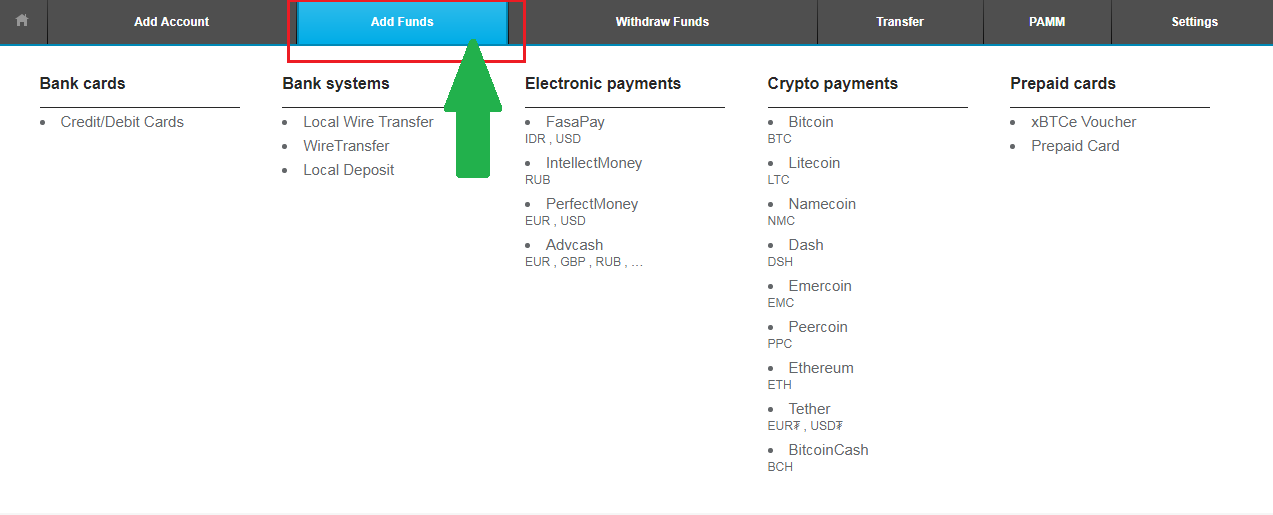 In this example, we are going to use Wire Transfer. First, fill in the deposit form and choose the account into which the funds will be credited. Select the currency wallet and the bank country. Enter the amount you want to deposit and the currency. For Fiat money, the currencies available are EUR, AUD, CAD, CHF, GBP, USD, and JPY. Finally, click "Next."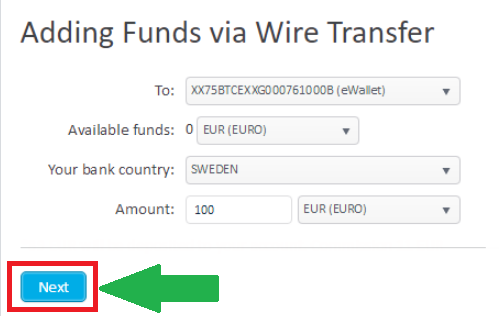 There will be a generated invoice that will include your name, your account number, Beneficiary's name, Beneficiary's address, Beneficiary's account, Beneficiary's bank, the bank address and its SWIFT code.
You can download and print the invoice, which can be found in the Generated wire transfer invoices form. If you have requested an invoice but are not going to pay it, please delete it from the list. Use the invoice details to make a payment at a bank branch or via the Internet banking service.

You can check your current payment status on the "History of Accounts" by clicking on your account number located at the left of My xBTCe. For rejected transactions, click "Details" to find out the reason for the rejection, or contact xBTCe customer service ([email protected]) for more information. You can also cancel the pending transactions by clicking "Cancel" in the History tab of the Account Operations page.
Fantastic! You have just deposited funds to your xBTCe account and are now ready to trade.
6. Buy your first Dash on xBTCe
Now that you have added funds to your account, you are now ready to trade.
Go to "Funds" located at the top of the page. You can select the market/currency pair you want to buy on the left. After, enter the amount with the corresponding price, and click "Buy."
Always remember to double check everything before completing the transaction.
Congratulations! You have just bought your first Dash on xBTCe.