Step-by-step Guide on Trading Bitcoin on SouthXchange
SouthXchange is a fast, secure, and real-time cryptocurrency exchange for bitcoin and other digital currencies. It is a friendly and straightforward currency management platform built and operated by PRO-systems.
Here are some steps that will guide you from starting an account on SouthXchange to buying your first Bitcoin:
1. Sign up for an account on SouthXchange
Access https://www.southxchange.com/.
Click on the "REGISTER" button.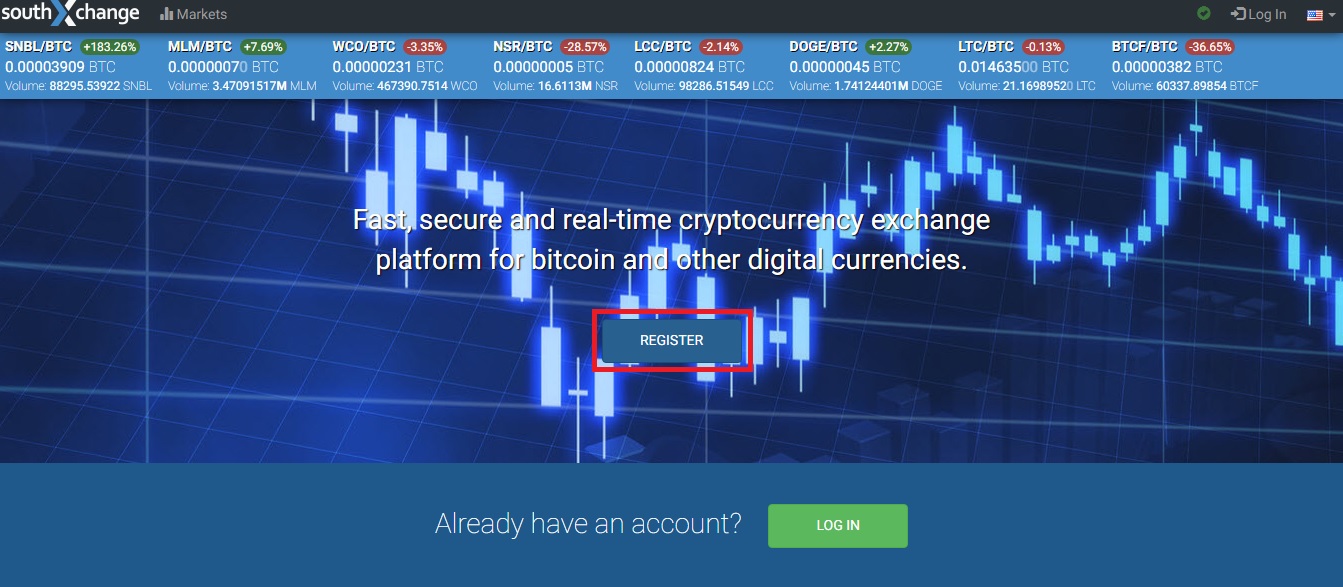 Provide the details needed for the registration, like a valid email address and password, and then click "Register."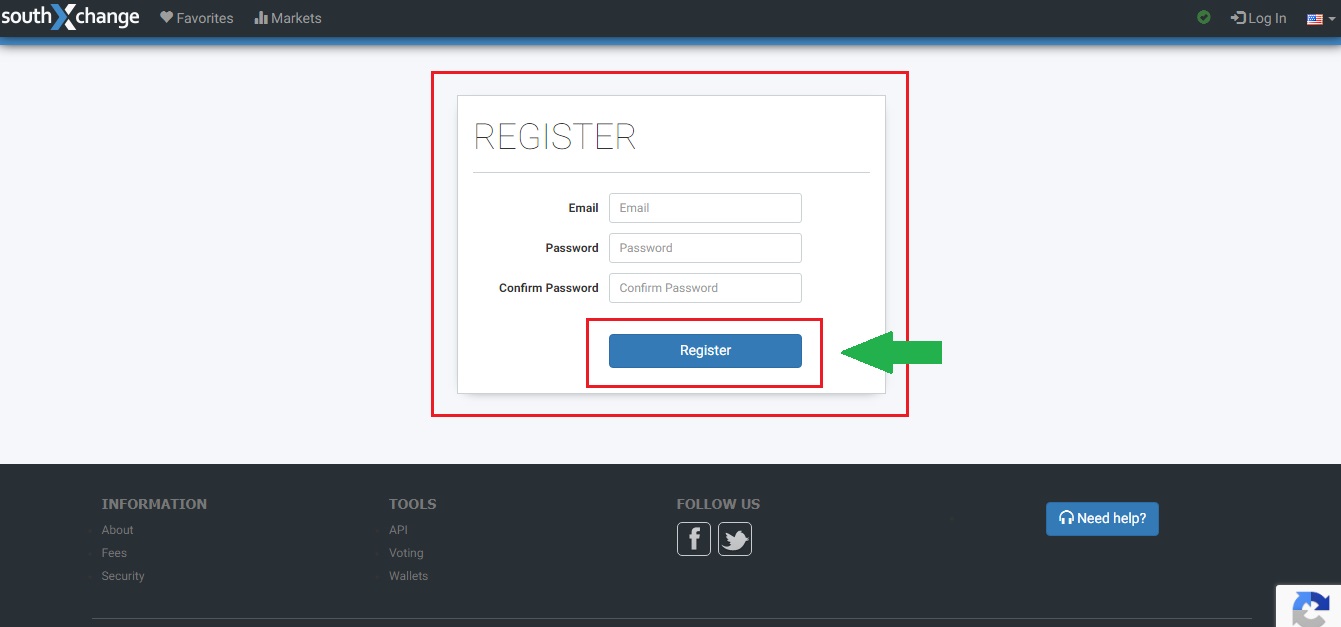 Easy, right? You now have an account on SouthXchange.
2. Activate your SouthXchange account via email
After registering, you need to verify and activate your account by clicking on the activation link sent by SouthXchange to your email.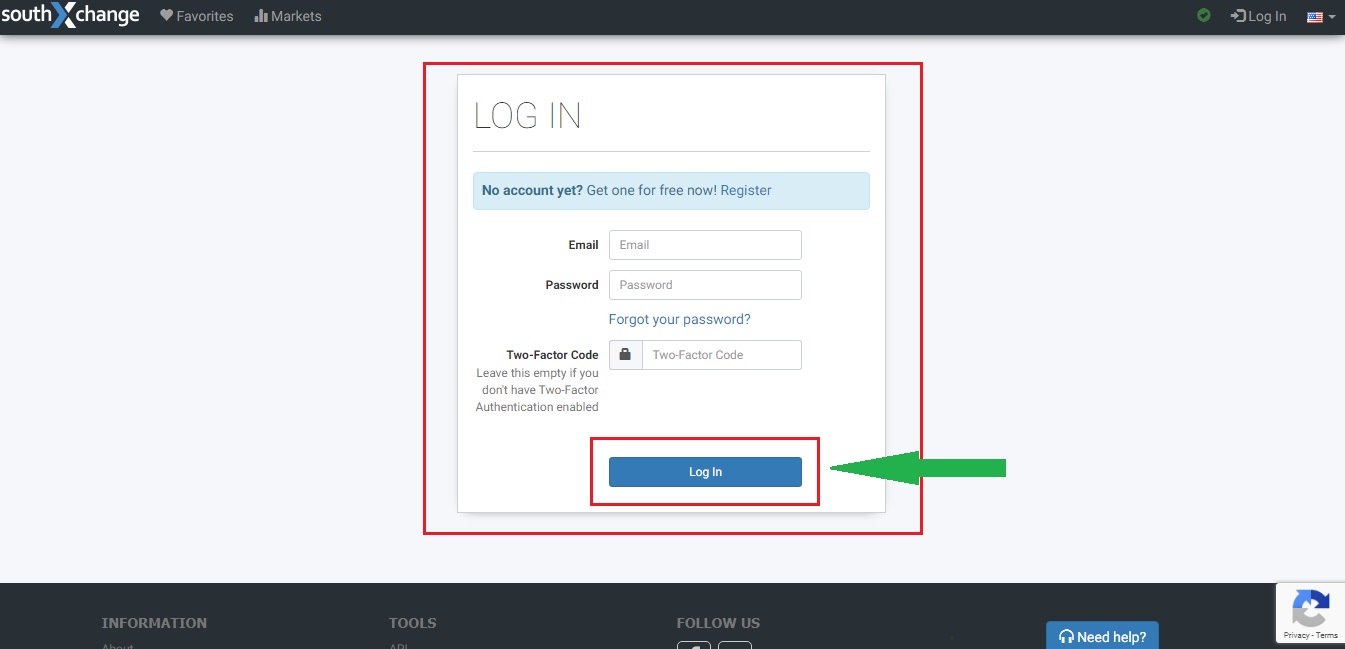 Upon clicking on the link, you will be redirected to the SouthXchange Log In Page. Enter the email address and password you registered, and then click "Log In."
3. Verify your SouthXchange user ID
In order to start using your account, SouthXchange requires you to verify your user ID. To do this, go to  "My Account" on the upper-right-hand of the homepage.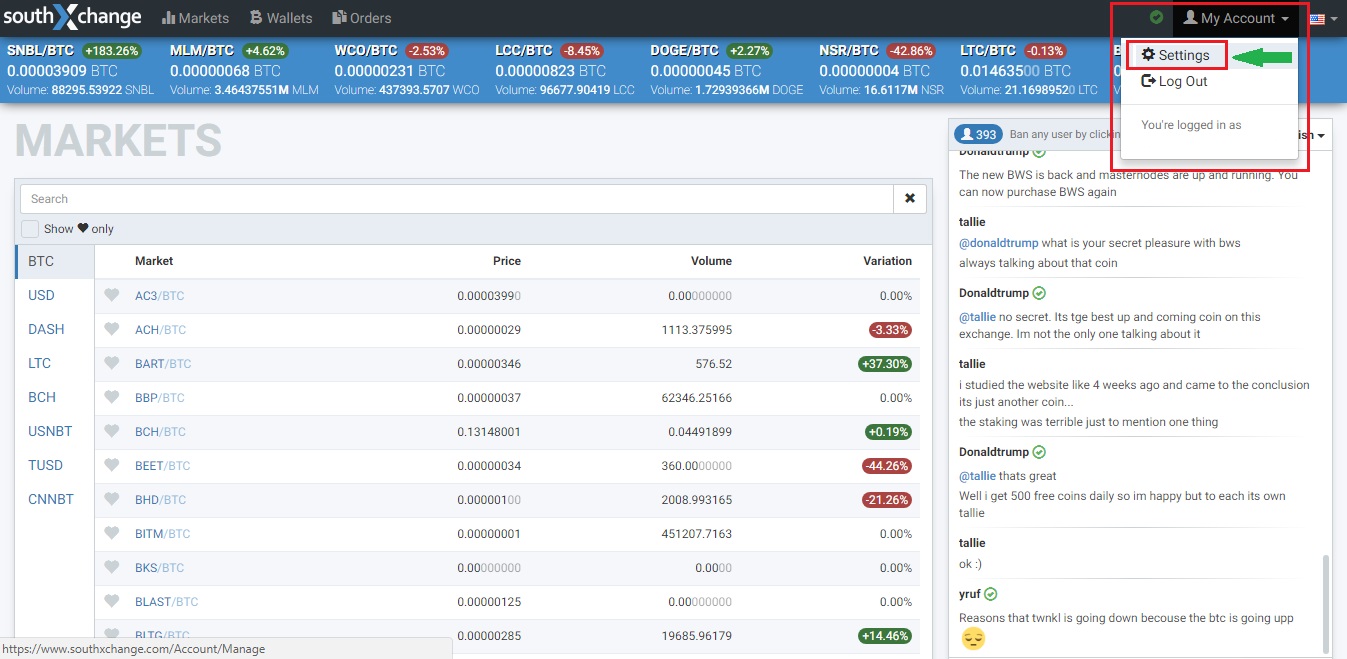 Select "Settings," and then select the "User ID Verification" tab on the left side. Enter your last name, first name, and attach a photo of your Government ID. You don't need to scan it,  just take a photo of it with SouthXchange homepage as the background. See image below for example.
Then, click "Send."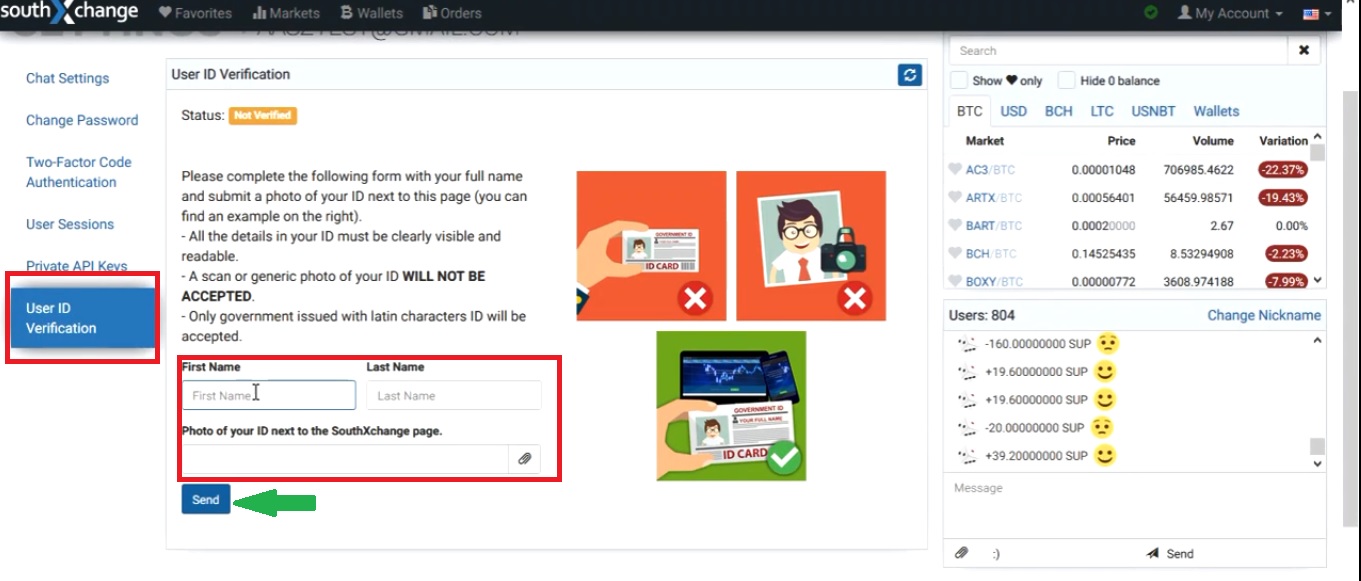 After that, you will see your photo at the bottom of the page. You will notice that its status is pending, as it will take up to 24 to 72 hours in order to be verified. But no worries, you can proceed further even if it's still pending.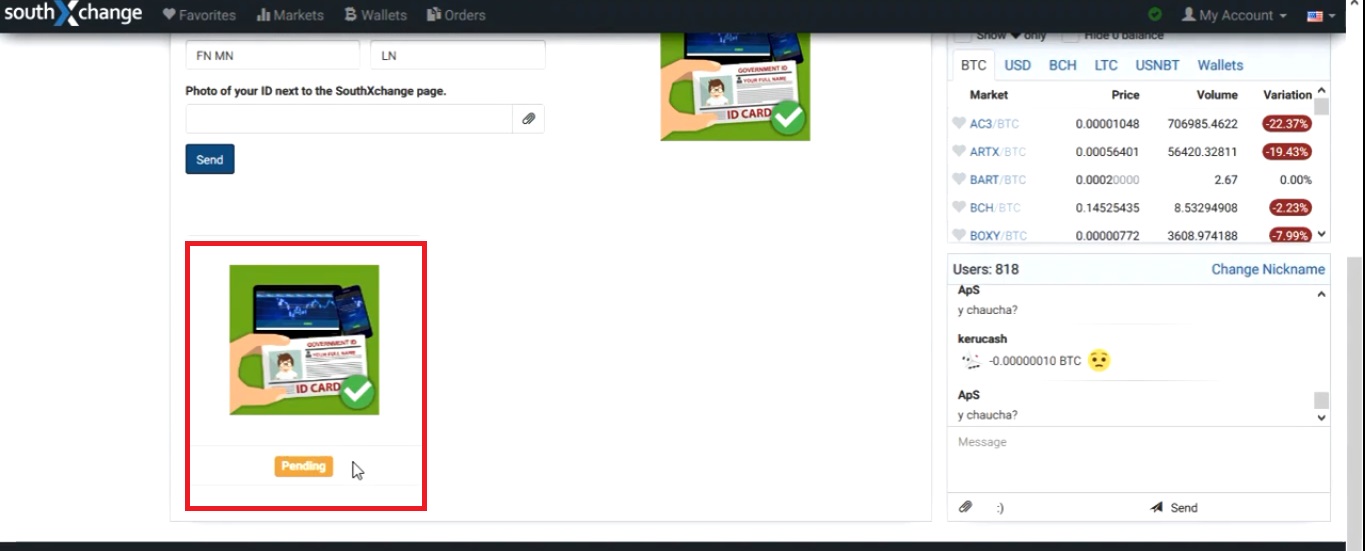 Perfect! You have verified your identity on SouthXchange.
4. Protect your SouthXchange account by enabling a 2FA
Most of the time, passwords are not enough so setting a two-factor authentication or commonly known as 2FA or TFA is essential. 2FA is a way of improving your online account security, to keep your account from becoming a magnet for cybercriminals.
So, what is 2FA? Two-factor authentication is an extra level of protection to user accounts to ensure that the real owner is the one trying to gain access to his or her account. Your username and password are parts of the first factor, while the second one is a piece of information like something the account owner knows, have or is, which includes OTPs send to your mobile phone,  PINs, answers to "security questions," or a biometric pattern of a fingerprint.
For cryptocurrency exchanges, the first factor is the login details, and the other one is a code found in applications like Authy or Google Authenticator, or can be received through SMS straight to the user's mobile phone.
To set up a 2FA on SouthXchange, from the homepage, go to "My Account" on the upper-right-hand corner and click on "Settings."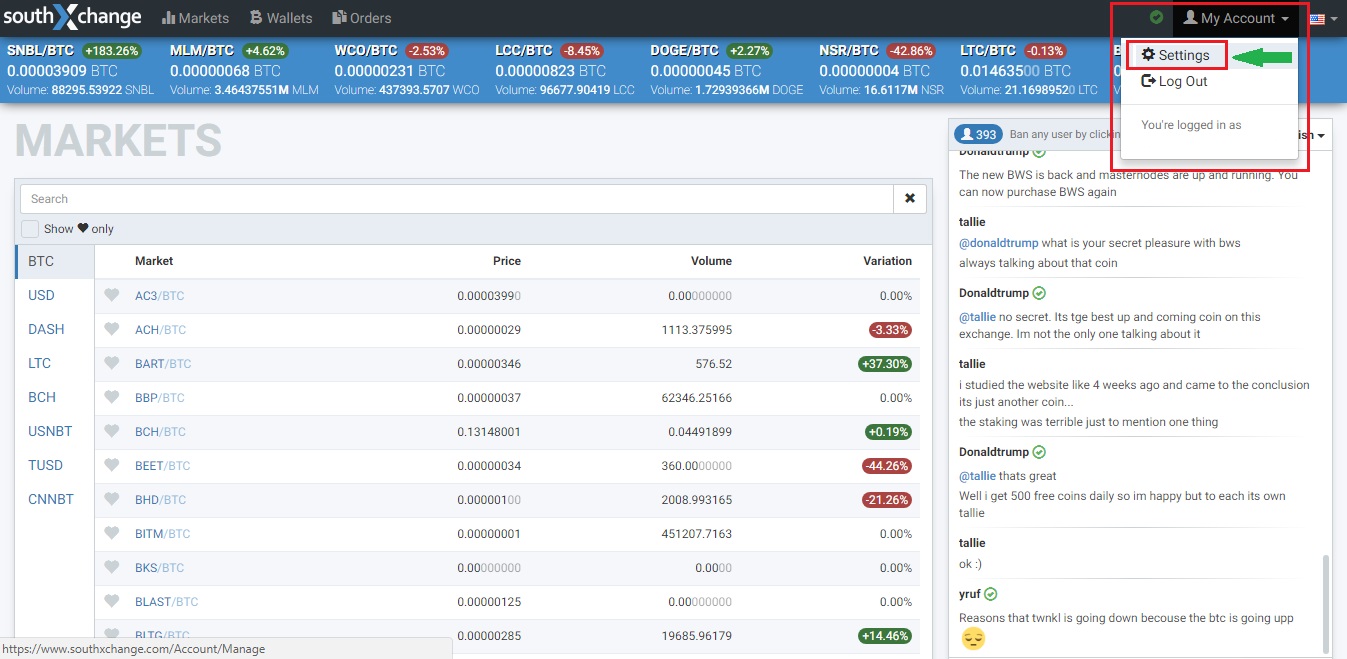 Select the "Two-Factor Code Authentication" bar, on the left side. Scan the QR code provided with Google Authenticator.
To scan the QR code, you have to install the Google Authenticator app on your mobile phone first. To do this, go to the App Store or Google Play.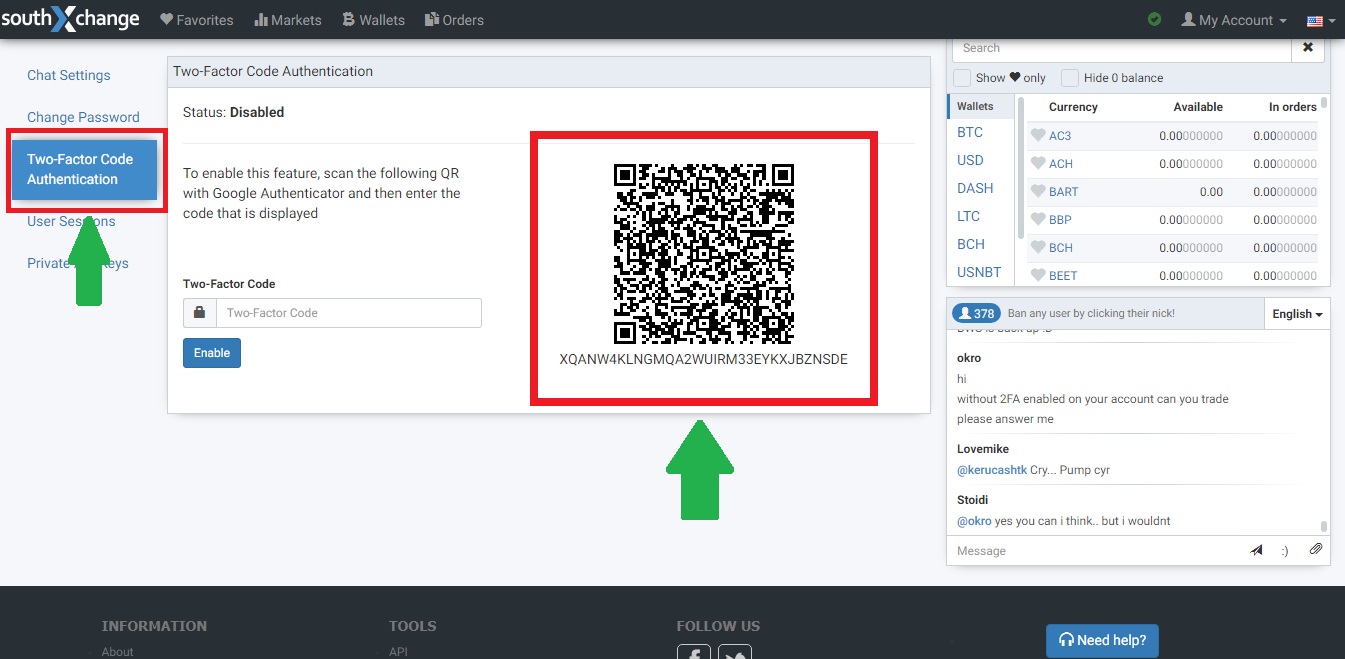 You can either scan the QR code or manually enter the key on the Google Authenticator app. After successfully doing it, you will acquire the two-factor code. Take note of the 2FA code or they keys below the QR code for you will need it when you disable this feature or when you want to reset your account. Your 2FA code is also required every time you log in.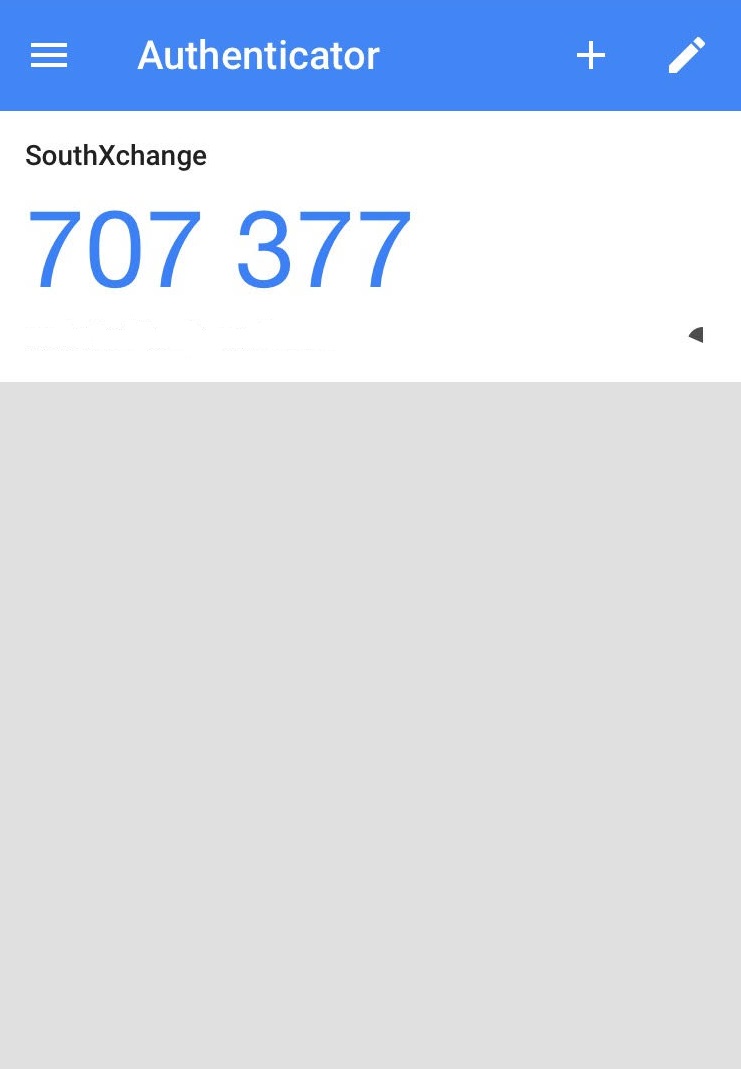 After this, enter the code in the box and click "Enable." Then, a warning will pop-up, saying you may be locked out of your account so make sure you saved the code for future use. Just continue and click "Yes." Once the six-digit code has been processed, you are good to go.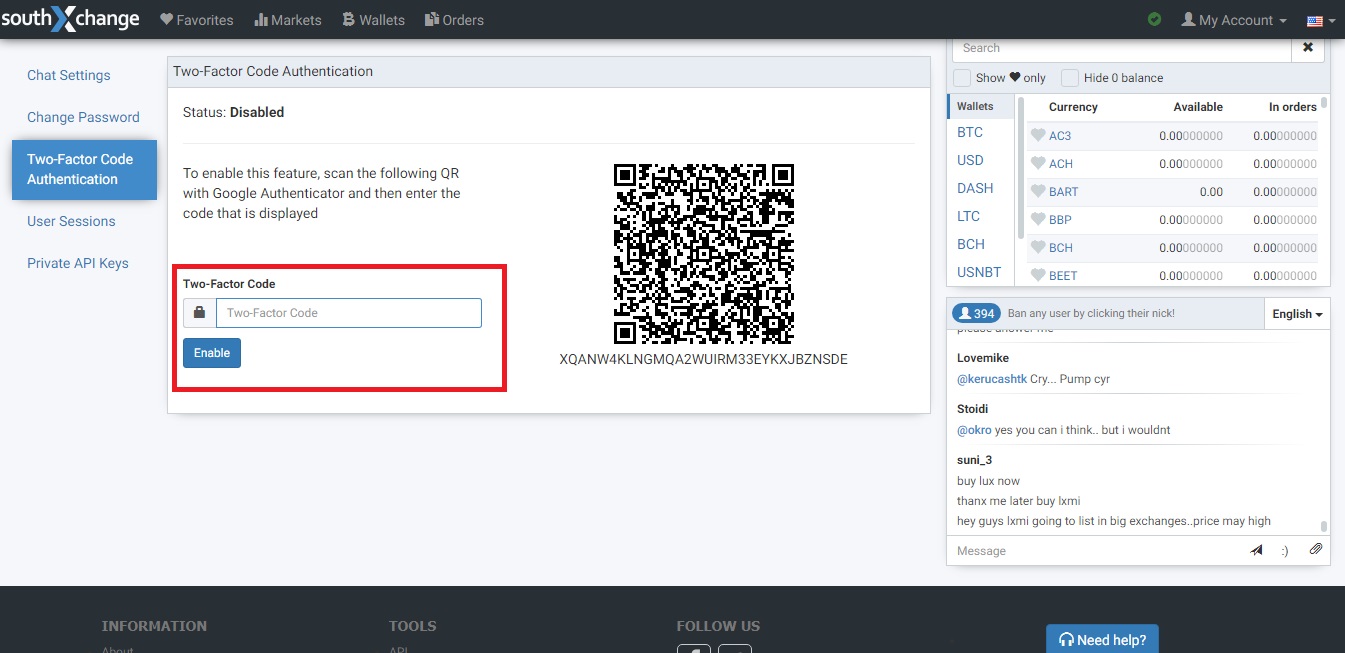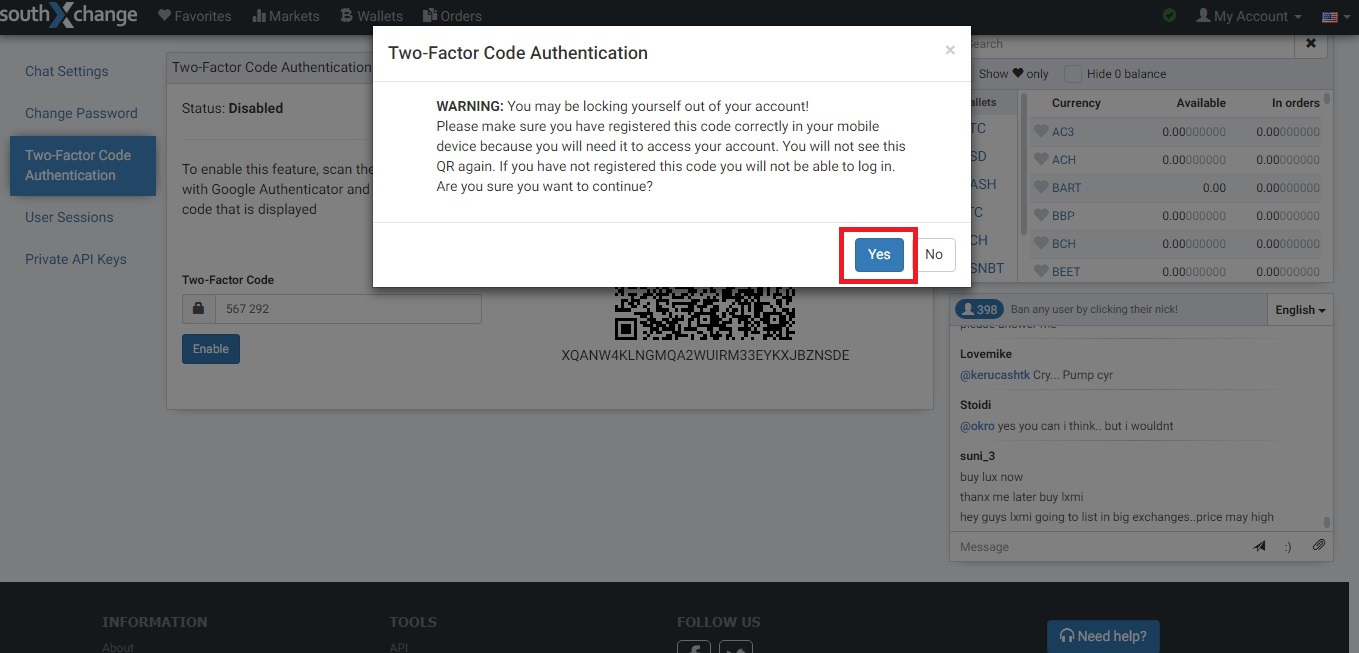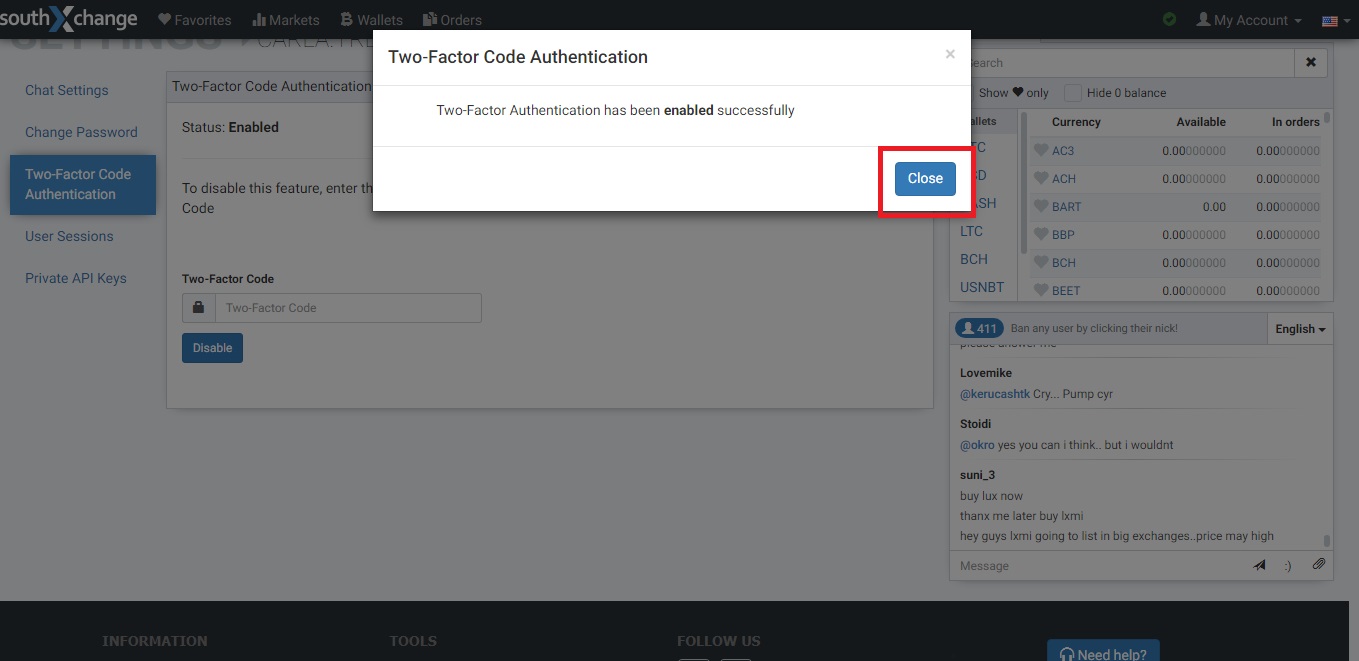 Congratulations! You have just protected your SouthXchange account.
5. Start trading on SouthXchange
Now you can start buying and selling Bitcoins on SouthXchange.
First, choose the markets (e.g. Bitcoin, Ethereum, Litecoin, Ripple, etc.)  you are interested to trade in and add it to your "favorites tab." To do this, go to the "Markets" tab located on the top bar.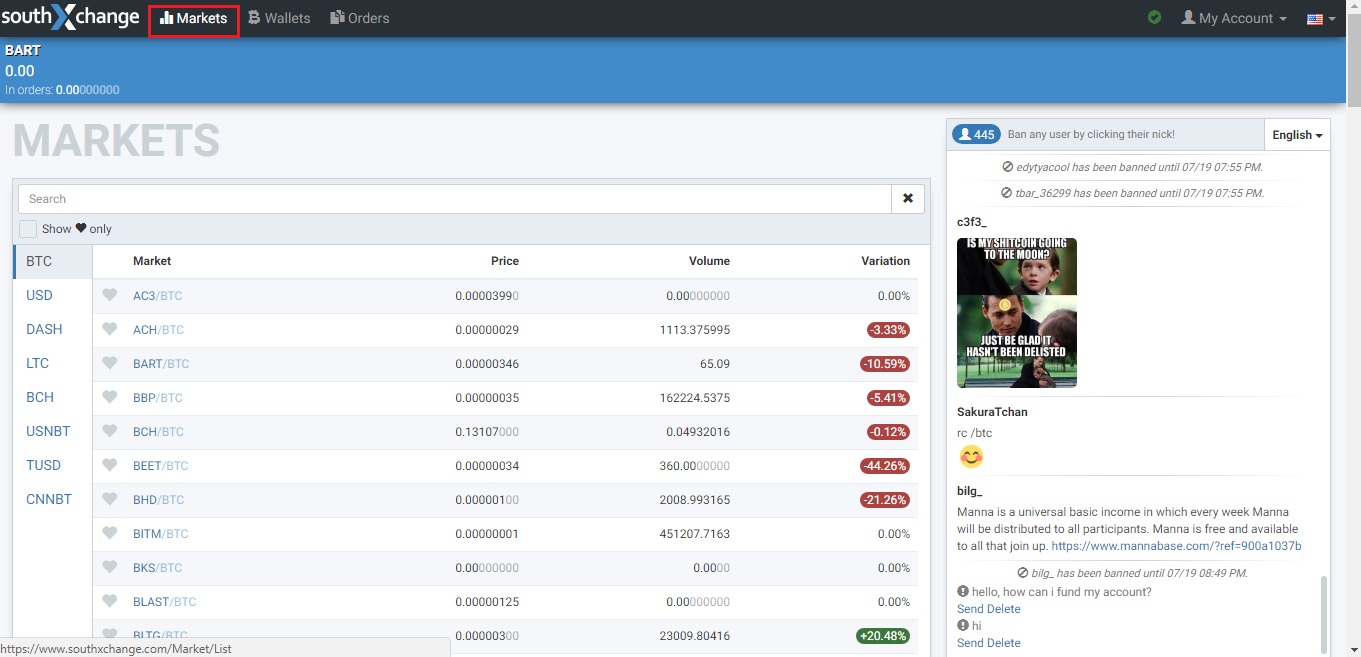 Choose your favorite markets along with the currencies you prefer. There are 140 types of markets available in SouthXchange so you can simply type in the search box and look for your chosen markets to save time.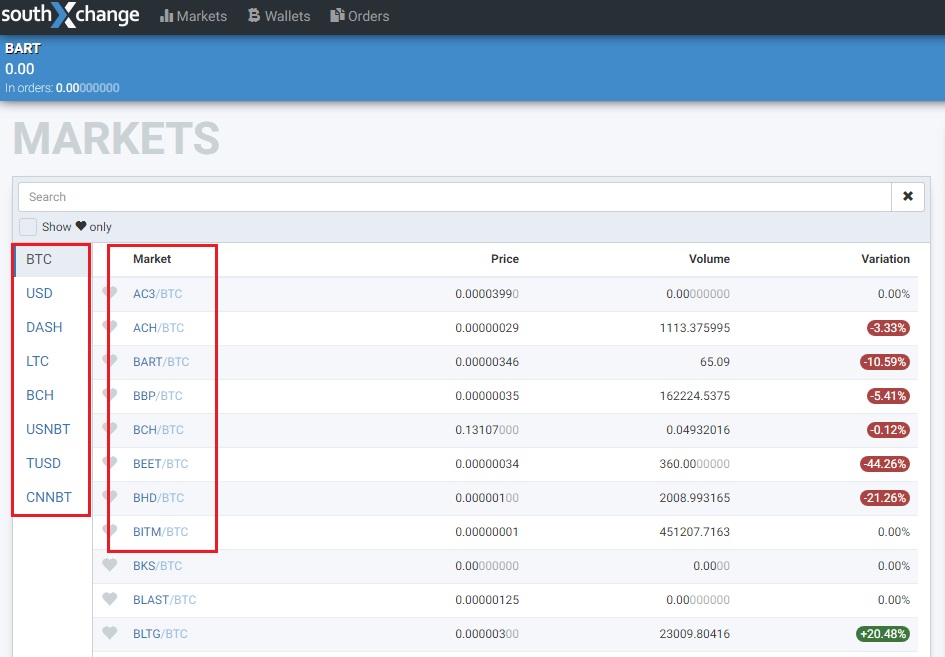 You can see the markets and currencies you selected on the blue tab at the top, also known as your "favorites tab." It is also stated there the trend and current price of each market.

Select which market you want to trade by clicking on the "Wallets" tab or by simply choosing from your favorites tab. Click on "Deposit" and then copy the address.
There you have it. You have bought your first Bitcoin on SouthXchange. Best of luck and happy trading!